For many users of bulk bags, the rules and regulations that surround the food industry are an everyday part of life. Dealing with the various certifications, processes, standards, and testing is extremely tedious but crucial part of maintaining a clean and successful food-grade facility.
Many of these same standards and processes apply to manufacturers of food grade FIBCs. In order to manufacture food grade bags, these facilities must meet certain standards and maintain certain certifications as laid out by various certifying agencies.
One of these certification agencies is called the BRC certification (British Retail Consortium). Under the GFSI (Global Food Safety Initiative) umbrella, the BRC global standard is a facility certification required to manufacture food grade FIBCs. Very recently, BRC has undergone a rebranding. Let's explore this rebranding and examine its impact on food grade bags.
BRC has Rebranded to BRCGS
Prior to the recent rebranding, BRC's standards were often referred to as British Retail Consortium global standards. This is important to note, as the BRC has now adopted this reference into its core brand name and logo. BRC is now BRCGS – which stands for British Retail Consortium Global Standards. Essentially, they just incorporated the name of the standards that they are known for across the food industry. Why is this important?
It's important to note this change for several reasons. First, going forward you're likely to see the branding including the logo, name, etc. change to the new BRCGS brand. This can cause confusion if one is not aware of the change. Second, it's important to note that this although the brand changed, the standards are the same. BRCGS is simply a brand change to adopt a common industry name for the standards BRC uses.
BRCGS and Food Grade FIBCs
The big question regarding the recent rebranding is how it impacts food-grade bulk bags. The answer is not much at all. The standards are staying the same, and besides the recently released "Issue 8", there aren't any other changes to note (more on BRC "Issue 8" changes coming soon).
This post primarily concerns knowledge of industry changes. It's important to keep up on the latest regarding food-grade certifications. This is essential to avoiding any confusion regarding this rebranding. Simply understanding that BRC is now BRCGS and they are the same organization with the same certifications is the important thing to note in this brand update.
For more information regarding BRCGS certifications and how they impact food-grade FIBCs – check out our blog post on this exact topic.
Thanks for Reading!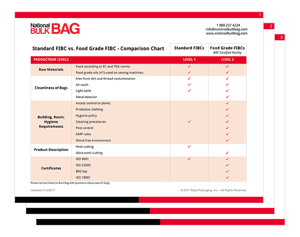 In today's competitive food marketplace, IFS and other GFSI recognized accreditations are increasingly important and you need the right packing to ensure compliance.
With over 20 years of food industry experience, National Bulk Bag has the expertise to help you select the right food grade certified bag for your product.
Click the button below to download our Food Grade Bulk Bag Buyer's Guide. By downloading this guide, you will get access to our food grade comparison chart, things you should look for in a food grade supplier, and everything else you need to know about purchasing food grade bags.