At National Bulk Bag, we talk about FIBC construction a lot and for a good reason. The sheer volume of customization options available in the industry can be overwhelming. From coating options to top and bottom construction to vented sides, there are hundreds of possibilities and combinations of bag construction. This makes the topic a natural area to cover thoroughly on our blog. For most products and applications, a spout or flat bottom FIBC is the ideal bottom construction. However, what if your application requires faster discharge? Or a larger opening? For those situations we recommend a "full bottom discharge" bag.
Full Bottom Discharge Bulk Bags
Full bottom discharge bulk bags, often referred to as "diaper bottom" or "diaper discharge", are FIBCs with bottom openings that span the full length and width as the dimensions of the bag. For example, if you're using a 35x35x45 bag with a full discharge bottom, the discharge opening on the bottom of the bag would be 35x35 – or the full width and length of the bag itself.
The bottom opening also features a flap very similar to the one found on duffle top bags. This flap is tied/sealed when the bag is used and during filling, then untied for rapid discharge of the product. Extremely fast discharge is one of the primary benefits of a full bottom discharge bag. No other construction type allows for this rate of discharge giving this bag a distinct advantage in applications where this is a necessity.
The Coffee Industry
The inspiration for this post came from some recent requests we've received from the coffee industry. In certain situations, coffee companies have a need for handling large quantities of wet coffee grounds. As is the case with many materials when wet, there is an issue discharging the wet material through a standard spout bottom bag. Specifically, the spout becomes clogged due to the wet material. This problem is completely mitigated with a full bottom discharge FIBC making it the ideal bag with this product in this application.
Other Industry Applications
This same logic can also be applied to other products that are handled when wet. Another common industry application is construction. Construction crews will often use this type of bag to haul large quantities of wet dirt/soil. It greatly depends on the product, but full discharge (diaper bottom) bags should be considered in any product/application where there is risk of clogging a spout bottom.
---
Thanks for reading, check out our New Buyer's Guide!
It's our mission to make your bag buying experience easy, informative, and enjoyable. We also want to share our knowledge with you, so you can make the best purchasing decision for the company you represent. Our Buyer's Guide to Purchasing Bulk Bags is a great starting point for any decision. It contains critical information ranging from types of bags to important safety information about handling and transportation.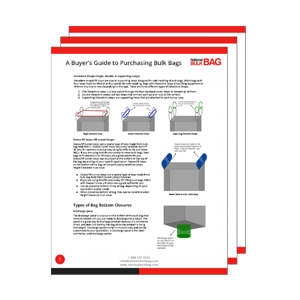 Download the guide by clicking below. By downloading, you'll learn all about:
Types of bags

Coated vs. uncoated

Liners

Bags with baffles

Types of lift loops

5:1 & 6:1 safety

guidelines

Much more!
Click the button below to download our comprehensive buyer's guide.