Updated: 3-8-2022
Bulk Bags are one of the most versatile bulk containers on the market. For the most part, no matter what product you are storing and/or transporting, there is a bag that fits your unique application.
One question that we were recently asked by a prospective client was "Are FIBCs Watertight or Waterproof?". In this blog we explore and answer this question as well as offer possible solutions to this specific issue.
For regular updates, subscribe to our blog by filling out the "Subscribe to our blog updates" form on this page.
Are Bulk Bags Watertight or Waterproof?
There is a lot of bad information out on the web about flexible intermediate bulk containers being watertight/waterproof and we want to set the record straight. Flexible intermediate bulk containers are not waterproof or watertight. FIBCs are made from woven polypropylene and the woven fabric itself is not watertight or waterproof.
Some bags are coated with a polypropylene laminate which can be on the inside of the bag, the outside of the bag, or both. This polypropylene laminate does not make the FIBC waterproof or watertight which is a common misconception. Polypropylene lamination can act as an adequate moisture barrier and can significantly reduce fine material leakage but again, does not make an FIBC waterproof or watertight. Click here to learn more about coated and uncoated bags.
Can You Make Bulk Bags Watertight?
There are a few different types of FIBC bulk bag closures that can help keep your bag watertight. The most common type is the drawstring top. This type of closure uses a piece of rope or string to tighten the top of the bag and keep it closed. Drawstring tops are very effective at keeping liquids out, but they can be difficult to open and close.

Other types of top closures include the flap top, which is a piece of fabric that covers the opening of the bag and is held in place with snaps or buttons, and the valve top, which uses a rubber or plastic valve to keep the contents inside the bag.

The most common type of bottom closure is the spout, which is a hole in the bottom of the bag that allows you to discharge the contents out. Other types of bottom closures include the gusseted bottom, which is a piece of fabric that forms a triangle or diamond shape and helps keep the bag upright, and the tie closure, which uses a piece of cloth or string to close the bottom of the bag.

No matter which type of FIBC bulk bag you are using, it is important to make sure that it is properly closed. This will help keep the contents inside and prevent them from leaking.
Can You Make Bulk Bags Waterproof?
Although bulk bags are not watertight or waterproof, there are many ways to protect your products from leaking. You can use a polyethylene liner to add another layer of protection. A poly liner is a thin piece of plastic that fits into the bulk bag and lines the inside of the bag. These can be a separate liner that you place into the bulk bag or a custom bulk bag pre-lined with one. It helps prevent moisture from getting into the bag. However, it doesn't make the bag completely waterproof.

Form-fit liners, also known as "liquid liners" are a type of liner that fits inside a container perfectly. They are made out of polyethylene and are cube-shaped to properly fit the container (these do come in different sizes). They are perfect for transporting liquids. However, these liners won't make your bag completely waterproof or watertight.
Thanks For Reading!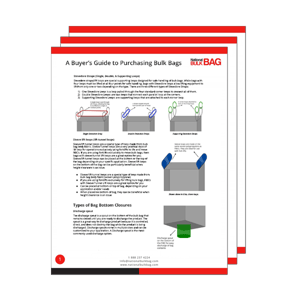 It's our mission to make your bag buying experience easy, informative, and enjoyable. We also want to share our knowledge with you, so that you can make the best purchasing decision for the company you represent. Our Buyer's Guide to Purchasing Bulk Bags includes critical information ranging from types of bags to important safety information about handling and transportation.
Download the guide by clicking below. By downloading, you'll learn all about:
Types of bags
Coated vs. uncoated
Liners
Bags with baffles
Types of lift loops
5:1 & 6:1 safety guidelines
Much more!
Click the button below to download our comprehensive Buyer's Guide.