The transport of sensitive materials, such as expensive raw materials to government-regulated substances, is a common occurrence for many bulk bag users. In many cases, these materials are entrusted to third party shipping companies. When entrusting sensitive materials to third party shippers, how can you be sure your materials are not tampered with? Further, how can you be confident that the materials arrive at their destination in the same condition in which they left?
Recent security innovations within the bulk bag industry resolve these security concerns. Let's explore the benefits of these new products, and how you can put them to use in your operations.
Tamper Evident FIBCs
The latest innovation in our industry, Tamper Evident bags, are specially designed to make tampering and damage evident upon visual inspection. These tamper evident bulk bags are designed to provide security for organizations who regularly ship sensitive or critical materials, as well as those with a history of tampering or damage by third-party shippers.
Tamper Evident bulk bags offer a number of security features, including:
Specialized patterning: Tamper Evident bags are constructed with specific patterning of woven polypropylene. These patterns are carefully designed to match across the various sections of the bag. Any deviations from the bag's pattern may signal tampering or damage that has been repaired after the fact.
Continuous stitching: The stitching pattern on FIBCs offers another way to identify tampering. These bags are created with a continuous stitching pattern on all seams – breaks in this pattern are visual evidence of tampering or damage.
Security eyelets: The filling and discharge spouts offer easy access for individuals attempting to tamper with the materials inside. Tamper Evident FIBCs include security eyelets around these spouts which can be secured with cable ties.
Double-walled spouts: These spouts are equipped with a material that allows the bag to be sealed. Any tampering or breakage of this seal can be easily identified by the end-user.
Each of these individual features makes it possible to identify tampering or damage during shipping or storage of sensitive materials. As a whole, the innovative feature set offered by Tamper Evident bags provides optimal security and confidence for vendors, end-users and shipping companies.
Talk to Your Distributor About Tamper Evident FIBCs
If you routinely ship sensitive materials or are simply concerned about the security of your shipments, Tamper Evident bulk bags may be the solution. It is important to note that the quality of Tamper Evident bags may vary from vendor to vendor. Selecting a vendor that offers high-quality Tamper Evident bags and customer support is crucial to your materials' security and your peace of mind.
If you are struggling to find a quality distributor in the U.S., read our recent article "5 Things to Look For When Choosing a FIBC Supplier" by clicking here.
If you are interested in deploying Tamper Evident bags in your operations, National Bulk Bag can help.
---
Thanks for reading!
It's our mission to make your bag buying experience easy, informative, and enjoyable. We also want to share our knowledge with you, so you can make the best purchasing decision for the company you represent. Our Buyer's Guide to Purchasing Bulk Bags includes critical information ranging from types of bags to important safety information about handling and transportation.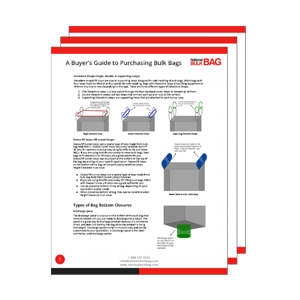 Download the guide by clicking below. By downloading, you'll learn all about:
Types of bags

Coated vs. uncoated

Liners

Bags with baffles

Types of lift loops

5:1 & 6:1 safety

guidelines

Much more!
Click the button below to download our comprehensive buyer's guide.