One critical question to ask yourself when considering purchasing flexible intermediate bulk containers is "how am I going to discharge this bag?" There are a variety of ways to discharge bags but not every method is a good fit for certain applications.
In this post, we will examine the differences between spout bottom and flat bottom FIBCs and attempt to determine which type of bag is right for your application.
For regular updates, subscribe to our blog by filling out the "Subscribe to our blog updates" form on this page.
Flat Bottom Bulk Bags
Flat bottom flexible intermediate bulk containers are constructed similarly to other bags. The only major difference is the lack of a discharge option on the bottom of the bag. Commonly used flat bottom bags are constructed with either an open top or a duffle top and usually are not coated. These types of bags are usually used for very specific applications.
One specific application where flat bottom bags are necessary is when the user plans on discharging the bag by cutting an X in the bottom. If another discharge option is present on the bottom of the bag, it can be quite difficult to cut.
Flat bottom bags can be hard to find in stock and this can be a major challenge when using this type of bag. They are not commonly used, so not as many suppliers keep them in-stock for on-demand orders. Many suppliers require 90-120 days to fulfill flat bottom bag orders which can be a huge problem for business that do not plan ahead.
Spout Bottom Bulk Bags
Discharge spouts are the most commonly used discharge option on Flexible Intermediate Bulk Containers. Discharge spouts are located on the bottom of the bag along with a safety tie to ensure the contents of the bag do not leak.
Discharge spouts can be accompanied with a safety valve, spout cover, or flap to provide additional protection from product leakage.
Using Spout Bottom Bulk Bags In Lieu of Flat Bottom
Although you may not want to discharge your product through a bottom spout, that doesn't mean that the bag that you use can't have a spout bottom. Given the fact that it can be hard to find flat bottom FIBCs that are in-stock and the right size for your application, consider using spout bottom bags instead.
Spout bottom FIBCs with duffle tops or open tops can act the same as a flat bottom bag. With double safety mechanisms on spout bottom bags ( a tie to release the spout bottom, and a second tie on the spout to release the product) flat bottom bag users won't notice the difference.
If you traditionally use flat bottom FIBCs, consider using spout bottom bags with open top or duffle top. In-stock available options for your application will most likely be much greater.
Thanks for Reading!
It's our mission to make your bag buying experience easy, informative, and enjoyable. We also want to share our knowledge with you, so you can make the best purchasing decision for the company you represent. Our Buyer's Guide to Purchasing Bulk Bags includes critical information ranging from types of bags to important safety information about handling and transportation.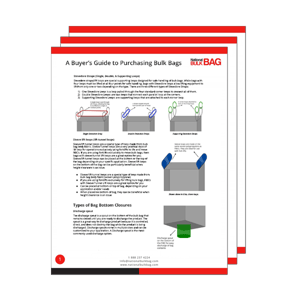 Download the guide by clicking below. By downloading, you'll learn all about:
Types of bags

Coated vs. uncoated
Liners
Bags with baffles
Types of lift loops
5:1 & 6:1 safety guidelines
Much more!
Click the button below to download our comprehensive buyer's guide.