We talk a lot about FIBC construction on the NBB blog, and for good reason. With all the variations and combination of bags, it would be impressive if we ever get to the point where we've covered them all. Nonetheless we will continue our pursuit to make sure we talk about as many as we can no matter how obscure or specialized some may be. That brings us to bulk bag flaps. What are they? What do they do? Would they be a good fit for your product and/or application? Let's discuss.
What is a Bulk Bag Flap?
---
If you haven't checked out our "Buyer's Guide to Purchasing Bulk Bags", we can't recommend it enough. It contains a ton of great information about FIBC construction includes illustrations of bag flaps.
---
A bulk bag flap is a piece of fabric designed to cover the bottom or top of a FIBC with the same length and width dimensions as the bag it's attached to. It is made of the exact same woven polypropylene material as the rest of the bag and is attached to one of the four sides creating a flap that can be open and closed. It is designed to cover whatever opening or closing type your bag has (spout top/bottom open top/full bottom discharge, etc.) providing additional protection to the bag.
What Industry Uses and/or Applications Do FIBC Flaps Have?
There are a variety of industry applications and uses where flaps are extremely useful:
In situations where contamination is absolutely unacceptable a flap is very useful. By covering the opening/discharge port(s) the flap helps prevent any outside contaminates from entering the bag.
If there is concern that the bottom discharge port may become damaged during transport or storage of the bag, a bottom flap offers additional protection. This could potentially save the discharge port from damage that could render it unusable.
If you're transporting product via shipping containers a flap can be extremely useful. The flap will provide additional protection to the bottom and/or top of the bag during transportation.
A very common application for flaps that we see quite a bit at NBB is when bottom spouts are used. After a spout bottom is tied shut, the flap is drawn over the spout apparatus covering and protecting it.
Important note: Typically, the addition of a flap does increase the price of a bag. If you need a flap, tell your supplier as this will impact your price per bag. Standard bags do NOT include a flap because of the cost savings.
---
Thanks for reading, check out our New Buyer's Guide!
It's our mission to make your bag buying experience easy, informative, and enjoyable. We also want to share our knowledge with you, so you can make the best purchasing decision for the company you represent. Our Buyer's Guide to Purchasing Bulk Bags is a great starting point for any decision. It contains critical information ranging from types of bags to important safety information about handling and transportation.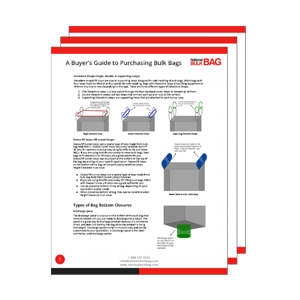 Download the guide by clicking below. By downloading, you'll learn all about:
Types of bags

Coated vs. uncoated

Liners

Bags with baffles

Types of lift loops

5:1 & 6:1 safety

guidelines

Much more!
Click the button below to download our comprehensive buyer's guide.