In recent blog posts, we've discussed the ongoing innovations coming from overseas suppliers within the FIBC industry. As this trend towards innovation continues, new and existing users of FIBCs will benefit from better products and better solutions to unique application challenges.
As one of the most recent innovations in the bulk bag industry, Flame-Retardant FIBCs are a great example of these benefits. Created to fill a specific need, these bags are helping many organizations resolve outstanding concerns related to the protection of their material, property and employees. They offer peace of mind that materials and people are protected, and that the organization is adhering to any legal regulations placed upon their industry or application.
Let's explore the features and benefits of flame-retardant bags.
Flame Retardant FIBC Bulk Bags
Flame-retardant FIBCs are designed specifically not to burn and thus prevent the spread of fire in certain scenarios. These bags offer several unique features and benefits, including:
High melting peaks: Flame-retardant bags are available with a high melting peak of up to 168.39 degrees Celsius. This increased melting peak allows flame-retardant FIBCs to be used in many applications where standard bag may fail or catch fire.
Flexible heating range: Depending on the manufacturer, flame-retardant bags are available with heating ranges between 35 degrees Celsius and 350 degrees Celsius. This extensive heating range means that flame-retardant bags can be used in a wide range of applications and environments.
IS certification: National Bulk Bag sources bags that are certified under IS:15601 standards for flammability. This ensures that the bags we distribute adhere to the strictest regulations and are capable of meeting your demanding application requirements.
Heat and flame resistance: Under heat, the fabric of standard

FIBC

begins to change on a molecular level, which causes the fabric to expand. The fabric of the bags can withstand much higher levels of heat without undergoing this molecular change or expansion.
Halogenation options: Flame-retardant bags are available in halogenated and non-halogenated options. Halogens act as active flame retardants when fire is present, which helps the bag prevent the spread of fire and damage to the material. To learn more about halogenation, read our recent article "What is Halogenation? What does it have to do with Bulk Bags?" by clicking here.
These features and benefits make flame-retardant bags an ideal solution to many different needs and applications.
Talk to Your Distributor to Learn More
While it is certainly true that flame-retardant bags offer a number of benefits when used in specific applications, it is important to remember that not all flame-retardant bulk bags currently on the market are not created equally. Vendors offer these bags in varying qualities, with differing specifications and standards ranges.
In order to source the proper bag for your unique application, it is important to talk to your distributor and explain your exact use and needs. By doing so, you can rest assured that the bags you source are ideal for your application.
National Bulk Bag is a leading distributor of FIBCs and can help you source the best product for your application and industry.
---
Thanks for reading!
It's our mission to make your bag buying experience easy, informative, and enjoyable. We also want to share our knowledge with you, so you can make the best purchasing decision for the company you represent. Our Buyer's Guide to Purchasing Bulk Bags includes critical information ranging from types of bags to important safety information about handling and transportation.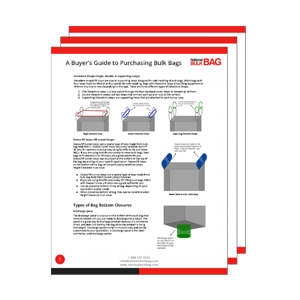 Download the guide by clicking below. By downloading, you'll learn all about:
Types of bags

Coated vs. uncoated

Liners

Bags with baffles

Types of lift loops

5:1 & 6:1 safety

guidelines

Much more!
Click the button below to download our comprehensive buyer's guide.