Continual growth of the bulk bag industry has led to new applications, products and industry use cases. In addition to innovative new products, evolution within the FIBC industry has resulted in improved solutions to old challenges and replacements to existing products.
A good example of an FIBC being a viable replacement for an existing product is the Skip bulk bag. Let's explore the benefits of skip bulk bags and how can use them in your operations.
Skip FIBC Bulk Bags
The term skip is British slang for a large open-topped waste container. More commonly referred to as dumpsters in the United States, these containers are used in many industries, including construction, hospitality, waste management and more. While they are a popular solution, metal dumpsters do have drawbacks, including their cost, weight, limited size options and more.
Designed as a direct replacement for traditional metal skips or dumpsters, Skip bulk bags are constructed of woven polypropylene with a very high strength to weight ratio. Skip bulk bags are wider in size than traditional FIBCs, with available capacities ranging from 1 to 4 cubic yards.
Skip bulk bags offer several benefits over traditional metal dumpsters, including:
Flexibility: Skip bulk bags are available in varying sizes, making them an ideal fit for a range of applications. Employ a small Skip bag for household wastes, a medium sized Skip bag for dry waste or a large Skip bag for community waste collection.
Environmentally friendly: Collection and disposal of a full traditional metal skip often requires multiple trucks or journeys. Skip bags can be collected and disposed of by a single truck in a single journey, thereby limiting the impact on the environment.
Ease-of-use: Skip bags are much lighter and easier to handle than a traditional metal dumpster and are built with integrated reinforced lifting loops. This means that they can be deployed in a wider range of environments, without the need for heavy equipment.
Cost-efficiency: Traditional metal skips require significant up-front investment and continual maintenance – for larger operations these costs can quickly eat away at operating budget. Skip bags are less expensive to purchase and require little to no maintenance, making them a cost-effective solution for may applications.
These benefits make skip bags a ready replacement for traditional metal dumpsters in a wide range of applications, including community waste collection, household projects, construction work and more.
Talk to Your Distributor to Explore the Potential of Skip Bags
Skip bags are ideal for use in a wide range of applications and are often a better solution that traditional metal skips. However, the wide range of options, including size, quality and vendor choices, can make it difficult to determine which skip bag is the best for your specific needs. It can be helpful to speak to your distributer to compare your options and pinpoint the optimal solution.
National Bulk Bags maintains relationships with multiple vendors, each offering different product options. This allows us to help you identify and source the right skip bag for your unique application.
---
Thanks for reading!
It's our mission to make your bag buying experience easy, informative, and enjoyable. We also want to share our knowledge with you, so you can make the best purchasing decision for the company you represent. Our Buyer's Guide to Purchasing Bulk Bags includes critical information ranging from types of bags to important safety information about handling and transportation.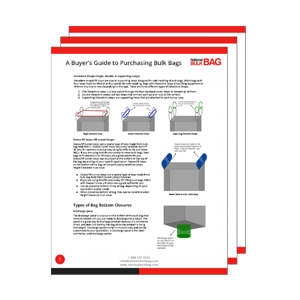 Download the guide by clicking below. By downloading, you'll learn all about:
Types of bags

Coated vs. uncoated

Liners

Bags with baffles

Types of lift loops

5:1 & 6:1 safety

guidelines

Much more!
Click the button below to download our comprehensive buyer's guide.