The FIBC industry is continually evolving in response to the changing requirements of end users. As the industry evolves, so do the products offered by vendors. At National Bulk Bag, we are continually excited by the new and refined products entering the market. Many of these product innovations offer promising benefits for specific industries and use cases.
One of the newest developments in the industry, the over-sized spout bottom bag offers such promise. Featuring a spout 28 inches in diameter – double the standard discharge spout size of 14 inches – oversized spout bottom FIBCs were originally designed for the hemp industry, but have potential uses across many operation types.
Oversized spout bottom FIBCs offer several benefits and use cases. Let's explore them.
Resolving the Common Challenge of Bridging
Bridging occurs when a product within a bag sticks to itself during discharge, clogging the spout bottom of the bag. Bridging is especially common with products with high moisture content, including organic materials and high moisture powders. Bridging presents a significant logistical challenge for facility operations as blockages can slow production.
To combat bridging, many users simply cut out the end of the bag to circumvent the spout. This method presents several issues, including safety hazards and uncontrolled discharge of material while rendering the bag unusable for future applications. To learn more about bridging, read our recent article "What is FIBC Bridging? How Can You Minimize It?" by clicking here.
Over-sized spout bottom bags resolve the challenges of bridging. The faster discharge rate and larger opening prevent material from building up around the spout, resulting in increased reliability and safety for users.
Increased Efficiency
Over-sized spout bottom bags enable users to discharge material at a faster rate, while offering the same control over release as a standard spout bag. This enables users to extract the materials needed for production or repackaging more efficiently, thereby limiting the time and effort spent on material transfer. This increased efficiency, combined with the reduced bridging potential we've already explored, can have significant positive impact on your operations.
Extended Industry Applications
Oversized spout bottom bulk bags are a great fit for nearly every industry. However, their ability to prevent bridging makes then an excellent alternative to standard spout bags in applications involving:
High moisture products like fresh organic materials such as hemp and agricultural goods
High moisture powders that tend to stick together and clump during transportation and storage
If you have not explored the impact over-sized spout bottom bags can have on your operations, we strongly suggest that you do, especially if you handle materials like these.
---
Thanks for reading!
It's our mission to make your bag buying experience easy, informative, and enjoyable. We also want to share our knowledge with you, so you can make the best purchasing decision for the company you represent. Our Buyer's Guide to Purchasing Bulk Bags includes critical information ranging from types of bags to important safety information about handling and transportation.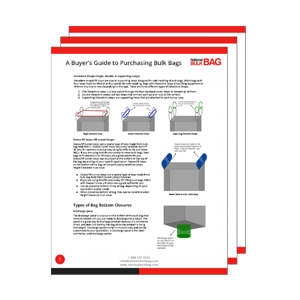 Download the guide by clicking below. By downloading, you'll learn all about:
Types of bags

Coated vs. uncoated

Liners

Bags with baffles

Types of lift loops

5:1 & 6:1 safety

guidelines

Much more!
Click the button below to download our comprehensive buyer's guide.