If you've done any research on flexible intermediate bulk containers outside of Nationalbulkbag.com you've probably run into some pretty bad information at some point or another. In general, the internet is rife with bad information, misconceptions, and downright lies. The bulk bag industry is no exception. UV stabilization in particular is one bag feature that has stuck out to us as a treasure trove of misinformation in the industry. Today, we attempt to set the record straight about UV stabilization. What does it mean? How does it impact use? Is it safe to store bags outside? Let's explore.
FIBCs and UV Degradation
You may have read or been told that FIBCs are "UV safe" or "UV resistant", but is that true? And if true, what does that mean? First off, yes, it is true to a certain extent. Bulk bags will resist UV rays and resist breakdown when exposed to the sun. However, that doesn't mean they are impervious to degradation when exposed to UV rays. In fact, all bags have an hour rating (more on that later) that limits how much they can be exposed to UV rays. This limit is why we at National Bulk Bag DO NOT recommend under any circumstances storing bags outside where prolonged exposure to the sun is almost certain.
UV degradation happens when bags are exposed to UV for long periods. In fact, all synthetic polymers (like the polypropylene used in FIBCs) degrade over time when exposed to UV rays. UV rays interact with the chemical bonds that hold polypropylene together creating free radicals that weaken those bonds. This process in turn causes the material to break down, crack and become unstable and is especially dangerous when considering the use and applications of bulk bags (the transport and/or storage of heavy amounts of materials). Degradation can lead to bag failure and is extremely dangerous. The result of bag failure can be serious injury or death.
Polymer Stabilizers

If National Bulk Bag doesn't recommend storing bags outside (where they can be exposed to the sun), then why have I heard FIBCs are "UV safe"? This is a great question and the source of a lot of confusion. Let's try to clear this up once and for all.
When FIBCs are made, the polypropylene is mixed with polymer stabilizers. Polymer stabilizers are a class of chemical additives commonly added to polymers during the manufacturing process to inhibit degradation of the material. These stabilizers give the bags resistance to UV rays by absorbing the rays and dissipating them as low-level heat. It should be noted that these stabilizers do break down over time and you should consult your supplier/distributor about your bag's rating (usually presented in hours of exposure).
Why This Matters
Safety is at the core of most of the blogging we do at NBB. Whether we are helping readers find the right bag for their application, giving out tips for safe handling, or guiding visitors through the complicated world of food grade, safety is at the center of it all.
Without polymer stabilizers, exposure to the sun would cause significant degradation to the bag and render it dangerous for use. However, as we mentioned before, even with additives like polymer stabilizers, there are defined limits that must be heeded. Our bags at NBB adhere to the ISO 21898 Standard which states that bag exposure to UV rays should never exceed 200 hours. This can be adjusted in most circumstances with a custom order, so consult your supplier/distributor if you have any questions.
It should be noted that different elements can have a significant factor on this time-frame. The intensity of the sun is very different in Arizona versus often cloudy/rainy in Washington state. The difference in this intensity can cause a massive discrepancy in the number of hours a bag can be exposed to UV rays before the material starts breaking down (even with polymer stabilizers added). This is just another reason why we never recommend storing bags outdoors. There are simply too many factors that can impact how long it's safe to have a bag exposed. However, if it cannot be avoided, consult your supplier for additional information regarding your specific use case.
---
Thanks for reading, check out our New Buyer's Guide!
It's our mission to make your bag buying experience easy, informative, and enjoyable. We also want to share our knowledge with you, so you can make the best purchasing decision for the company you represent. Our Buyer's Guide to Purchasing Bulk Bags is a great starting point for any decision. It contains critical information ranging from types of bags to important safety information about handling and transportation.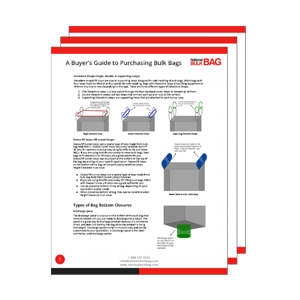 Download the guide by clicking below. By downloading, you'll learn all about:
Types of bags

Coated vs. uncoated

Liners

Bags with baffles

Types of lift loops

5:1 & 6:1 safety

guidelines

Much more!
Click the button below to download our comprehensive buyer's guide.