For an industrial product that seems so simple at first glance, it's truly amazing how many combinations and variations of bulk bags there are. After all, how much different can one bag be from another? The answer: quite a bit, and it's no different for bulk bag liners. Sure, a bag liner is simply a polyethylene plastic bag* that is placed into an existing bag – but they aren't all the same. That brings us to today's discussion regarding tubular liners. What is a tubular liner? How does it differ from a standard FIBC liner? Let's explore.
*note: not all liners are made of polyethylene, but for the purposes of this post it should be assumed we are only referring to polyethylene liners
Click here for more info on FIBC liners
Tubular FIBC Liners
Be sure not to miss our "Buyer's Guide to Purchasing Bulk Bags", we can't recommend it enough. It contains a ton of great information about the different types of liners available in the industry as well as other important information regarding FIBCs.
Tubular liners are very similar to your standard gusset liners in many ways. They are made of the same polyethylene material and are pre-inserted into the bag before leaving the manufacturing facility. The largest structural difference between the two is the opening at the bottom of the liner. In a standard gusset liner, the bottom of the liner is sealed shut. When discharging a bag, this liner is pulled through the bottom of the spout and cut allowing discharge to take place. In a tubular liner, there is no bottom seal to cut. The end of the liner is simply fed through the spout before the bag is tied and there is no need to cut the liner when discharging.
It is also important to note how these liners are made available for purchase. Typically speaking, tubular liners are pre-inserted into the bags before purchase. Gusseted liners can be purchased in rolls and inserted by the purchaser or purchased pre-inserted into the bags before purchase. Form-fit liners are only available pre-inserted into the bag before purchased.
To learn more about the different types of liners available, click here.
Why Would You Want a Tubular Liner?
There are several scenarios and reasons that would make a tubular liner more appealing. First and foremost is your application. If you're using a spout bottom bag and require the use of a liner, a tubular liner is a fantastic option as it allows the liner to be fed through the bottom spout during manufacturing. This allows for more efficient use of the bag during filling and discharging.
Another great reason to use tubular liners is potential cost savings. If you're currently using form fit liners in an application where tubular could be used, you may be paying too much. Generally speaking, tubular and gusseted liners cost less than form fit liners. If you think tubular liners could be a good fit for your product and application, be sure to talk to your supplier. There is a good chance you could get a custom bag that is more cost effective and more effectively fits your needs.
---
Thanks for reading, check out our New Buyer's Guide!
It's our mission to make your bag buying experience easy, informative, and enjoyable. We also want to share our knowledge with you, so you can make the best purchasing decision for the company you represent. Our Buyer's Guide to Purchasing Bulk Bags is a great starting point for any decision. It contains critical information ranging from types of bags to important safety information about handling and transportation.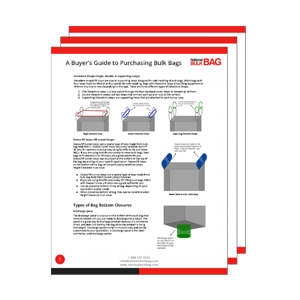 Download the guide by clicking below. By downloading, you'll learn all about:
Types of bags

Coated vs. uncoated

Liners

Bags with baffles

Types of lift loops

5:1 & 6:1 safety

guidelines

Much more!
Click the button below to download our comprehensive buyer's guide.