Organizations looking to reduce storage and transportation costs will likely be excited about the recently growing market for used FIBCs. It has become increasingly popular for companies to sell their bags after their first use, and for other organizations to purchase those bags for their own purposes. The sale of used FIBCs helps the seller recoup some of the original purchase cost, while organizations that purchase used likely save a few dollars.
While the practice of selling and buying used FIBCs benefits both parties, there are risks involved. It is important to know how to stay safe when using refurbished bags.
Let's explore the benefits and risks associated with the use of used FIBCs, and the different types of used bags you are likely to see on the market.
Safety Concerns Related to Refurbished and/or Used FIBCs
Refurbished or used FIBCs are exactly that – bulk bags that have been used and then refurbished or sold as is. Many companies that sell refurbished or used FIBCs claim to conduct exhaustive safety inspections before listing them for sale.
However, these bags often undergo tremendous strain and stress during use – the weight of materials stored within these bags is significant.
When considering a purchase of used or refurbished FIBCs, be sure to obtain documentation from the seller that details their inspection and certification process. Always remember that not all FIBCs are manufactured or designed for multi-use – only bags with multi-use capabilities should be purchased used or refurbished.
Identifying the Different Types of FIBCs for Reuse
One of the most important factors to remember when considering a used bag purchase is the bag's safety factor ration. The most common safety factor ratio are 5:1 and 6:1.
5:1 means the bag itself has the ability to hold 5 times the rated bag weight, although this is extremely dangerous and should never be done. 5:1 bags are rated for single use only.
6:1 bags have the ability to hold 6 times the rated capacity, though again, this is very dangerous and not recommended. However, because of their enhanced safety rating, 6:1 bags are suitable for multiple uses.
Even when purchasing 6:1 bags, there are a number of guidelines that the FIBCA suggests that you follow, including cleaning, reconditioning, tracking and testing the bag before repeated use or purchase.
For more information about 5:1 and 6:1 bags and the FIBCA's guidelines for reuse, read our recent blog post "FIBC Bulk Bag Safety: 5:1 vs 6:1."
Talk to an Expert Before Purchasing Refurbished or Used FIBCs
Buying and selling used FIBCs can help save money and protect the environment. However, when considering a used FIBC purchase, safety should always be your priority. National Bulk Bag can help you review and understand the processes a used FIBC distributor follows when testing and preparing their products for resale.
Contact us today to discuss your specific used FIBC concerns with one of our experts.
For more information about bulk bags, download our Comprehensive Buyer's Guide to FIBCs.
---
Thanks for reading!
It's our mission to make your bag buying experience easy, informative, and enjoyable. We also want to share our knowledge with you, so you can make the best purchasing decision for the company you represent. Our Buyer's Guide to Purchasing Bulk Bags includes critical information ranging from types of bags to important safety information about handling and transportation.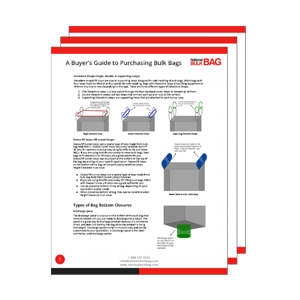 Download the guide by clicking below. By downloading, you'll learn all about:
Types of bags

Coated vs. uncoated

Liners

Bags with baffles

Types of lift loops

5:1 & 6:1 safety

guidelines

Much more!
Click the button below to download our comprehensive buyer's guide.