FIBC Bulk bags have proven to be effective for storing and transporting a variety of products and materials and have also gained a reputation for being a versatile bulk packaging option. One customizable feature of flexible intermediate bulk containers is the bag's bottom closure. With multiple bottom closure options, bags can be customized to fit your specific application and operation.
Let's examine seven of the most common types of bottom closures used and hopefully help you determine which type of bag bottom is right for your unique application. For regular updates, subscribe to our blog by filling out the "Subscribe to our blog updates" form to the right.
Discharge Spout
The discharge spout is on the bottom of the bulk bag that remains closed until you are ready to discharge the product. The spout is a great way to discharge product because it is controlled, direct, and does not destroy the bag while the product is being discharged.
Discharge spouts come in multiple sizes and can be customized to your application. A Discharge spout is the most commonly used discharge option.
Discharge Spout with Safety Valve (aka Iris Closure)
A discharge spout equipped with a safety valve are ideally suited for choking the necks and controlling the flow of material being discharged from the bags bottom spout. These are commonly used in situations where it is imperative to be able to control the flow of material OR where there are hazardous materials that are discharged from the bag.
Discharge Spout with Cover (aka Star Closure & Petal Cover)
A discharge spout with cover is a piece of fabric sewn between the spout and the petal closure used to hold in/protect the spout. It prevents bulging and minimizes contamination risk. A square piece of fabric which is branded with an "X" and has webbing sewn in each flap for closing. It is sewn over the discharge spout for protection.
Discharge Spout with Flap
The discharge spout with flap, also known as a sanitary flap, is a bottom diaper that protects the entire bottom surface of the bag for cleanliness and wearing. May also be referred to as a protective bottom.

B-Lock Closure
B-Lock closures, also known as a cord lock, are normally used for safe closing of FIBC skirt, top spout, or bottom spout. A b-lock is a closure device that is used to hold the rope or cord in place on the spout. B-locks are typically used on the discharge end of bags. They come in a variety of sizes and eliminate the need for hand tied knots.
Conical Bottom
A conical bottom closure is shaped like a cone at the bottom. These bags are especially suitable to pack tacky products which are not free flowing such as clay, slurries, etc. The conical design provides a gradient for the tacky materials to 'flow' towards the outlet spout.
Full Open Discharge
A full open discharge is a type of discharge whose outlet extends from the bottom seam and follows the bag's base dimensions. Also called a full open dump. A full open discharge is when the entire bottom of the bag opens and releases all the contents at once. These bags are commonly used when accuracy of discharge does not matter.
Thanks for Reading!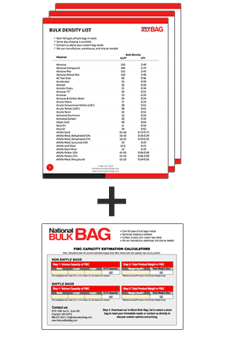 Thanks for reading about the advantages and disadvantatges of each bag bottom closure.
Safety and reliability are our top priorities. Each bag that we sell has a safe working load (SWL). To make sure the product you're packing will not exceed the SWL of the bag you're interested in, you'll need to know the bulk density of the product you're packing as well as the cubic foot capacity of the bag.
Click the button below to download our Product Weight Guide and FIBC Volume Calculator to help you determine how much weight a specific bag will hold.