If you're in the market for jumbo bags, there is a lot to consider. Top construction, bottom construction, baffles or no baffles, coating or non… the list goes on. However, one of the less considered types is construction. Bag construction refers to the way that the sheets of woven polypropylene are sewn/stitched together to form a bag. There are several different construction types and these types can have a big impact on the SWL (safe working load), industry applications, and safe handling of the bag.
Jumbo Bag Construction Types
U-Panel Jumbo Bag Construction
U-panel bags are constructed with three body panels – one that runs the full length of the bag forming the bottom and two sides and two additional pieces of fabric sewn into the larger piece that form the other two sides. Similar to other construction types, the U-panel bags will maintain a square shape when filled, especially a U-panel bag with baffles. U-panel bags are an industry standard and the most popular type of construction offering high safe working loads (SWLs) and solid durability.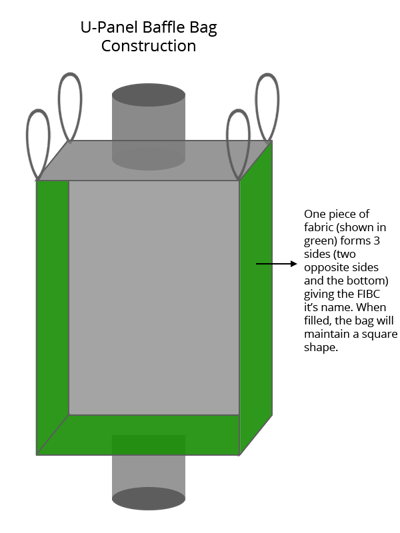 Circular Jumbo Bag Construction
Circular bags are made with a tubular piece of fabric that forms all sides of the bag allowing for stitching only for the top and bottom of the bag. Although the fabric is tubular, when filled the circular baffle bag will still resemble a square bag. There is a common misconception with circular bags regarding their shape when filled. They aren't literally circular; they are simply constructed with a single piece of fabric that forms all four sides of the bag. While they still resemble square/rectangular FIBCs, they will hold that shape the least of the construction types when filled.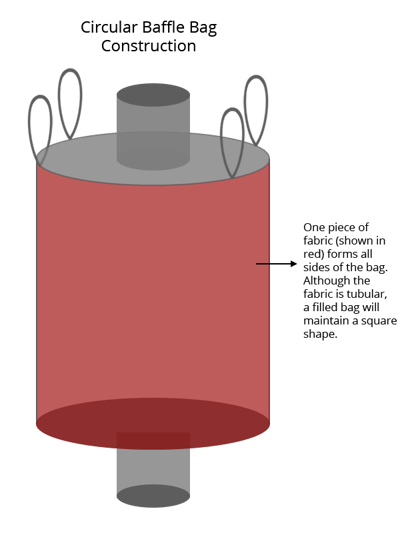 4-Panel Jumbo Bag Construction
4-panel bags are constructed with four individual pieces sewn together to form a square structure. When filled, a 4-panel bag will hold its square shape similar to other construction types. Typically, 4-panel bags will hold their shape better than the U-panel bags, and a U-panel bags will hold their shape better than a circular bag. The biggest drawback to 4-panel bags is the large amount of stitching required to keep the bag together. This can allow for more areas of the bag prone to failure. However, 4-panel bags are ideal for storage due to the way they hold their shape when filled.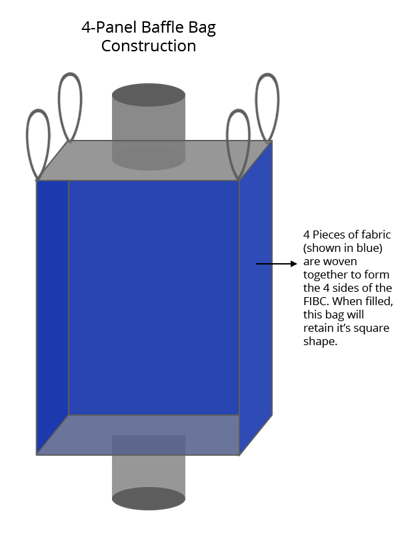 What are Jumbo Bag Baffles and Why Should You Care
Baffles
Any of the construction types listed above are flexible in nature and can bulge at the sides when filled losing their square shape. Baffles are extra fabric panels or pieces of string sewn into each of the bag's four corners. This reinforcement allows the bag to better hold its square shape when filled making them easier to store side by side or stack.
For more information about baffles, check out this post "What are FIBC Bulk Bags with Baffles?"
Why You Should Care About Construction Type
You may now be asking, why does construction type matter? Construction type can have an impact on a great deal of bulk bag attributes. Construction type can impact SWL (safe working load) and the bag's ability to maintain its shape when filled. That can in turn impact how the bag stacks and well it is able to be stored. Certain bag constructions are better for certain industry applications as well. Mainly this is due to the product being stored/transported in the bag. You should consult your FIBC seller for help on deciding what bag is best for your product and application.
---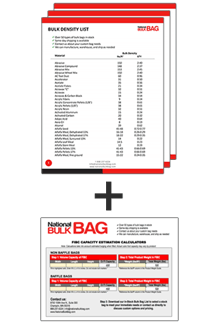 Thanks for reading!
Thanks for reading about the most common types of flexible intermediate bulk container lift loops!
Safety and reliability are our top priorities. Each bag that we sell has a safe working load (SWL). To make sure the product you're packing will not exceed the SWL of the bag you're interested in, you'll need to know the bulk density of the product you're packing as well as the cubic foot capacity of the bag.
Click the button below to download our Product Weight Guide and FIBC Volume Calculator to help you determine how much weight a specific bag will hold.