There are many different types of FIBC bulk bags and the right bag for you depends on your product and application. For example, you may be currently using a type A bulk bag with potentially volatile materials when a type C or D bag is best due to their electrostatic reduction properties.
The same is true when talking about bag construction. Depending on your product and application you may have the need for a bag that holds it's square shape during filling for better stacking and storage capabilities. If this is the case, then a bulk bag with baffles may be the best solution.
For regular blog updates, fill out the "Subscribe to our blog updates" form to the right.
What is a baffled FIBC?
A standard bag is flexible in nature and can bulge at the sides when filled losing it's square shape. Baffles are extra fabric panels or pieces of string sewn into each of the bag's four corners. This reinforcement allows the bag to better hold it's square shape when filled making them easier to store side by side or stack.
Overhead view of a FIBC with baffles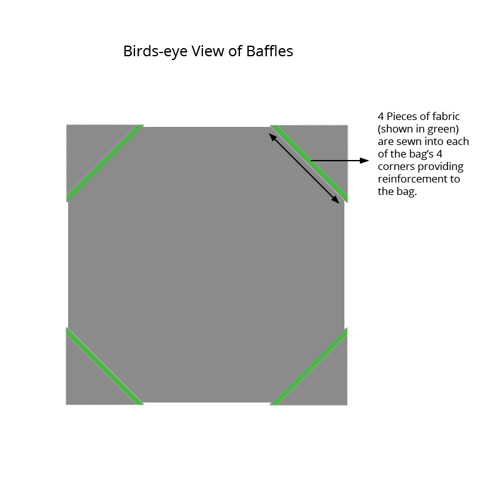 FIBC Bulk Bag with Baffles Construction
The most popular baffled bulk bags come in three different types of construction: Circular, U-panel and 4-panel. Circular baffle bags are made with a tubular piece of fabric that forms all sides of the bag allowing for stitching only for the top and bottom of the bag. Although the fabric is tubular, when filled the Circular Baffle Bag will maintain the same square shape shown in the birds-eye view above.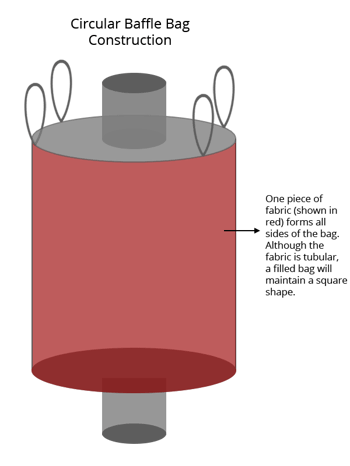 U-panel bags with baffles are constructed with three body panels – one that runs the full length of the bag forming the bottom and two sides and two additional pieces of fabric that form the other two sides. Like all baffle bag constructions, the U-Panel bags will maintain a square shape when filled (shown above).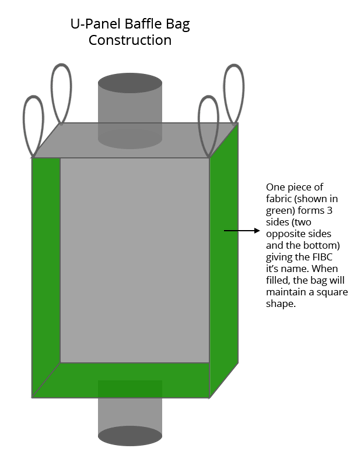 4-panel baffle bags are constructed with four individual pieces sewn together to form a square structure. When filled, a 4-Panel baffle bag will hold it's square shape. Typically a 4-panel baffle bag will hold its shape better than the U-panel baffle bag, and a U-panel baffle bag will hold it's shape better than a circular bag.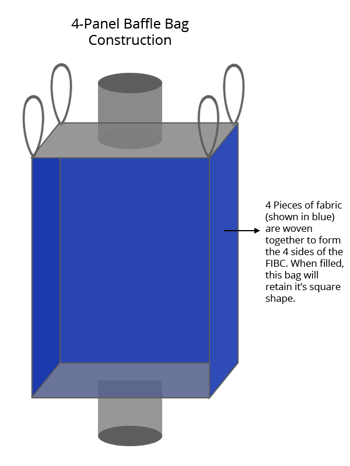 Here is a picture of bags with baffles stacked. Notice that they all hold a square shape no matter what 'construction' type is being used.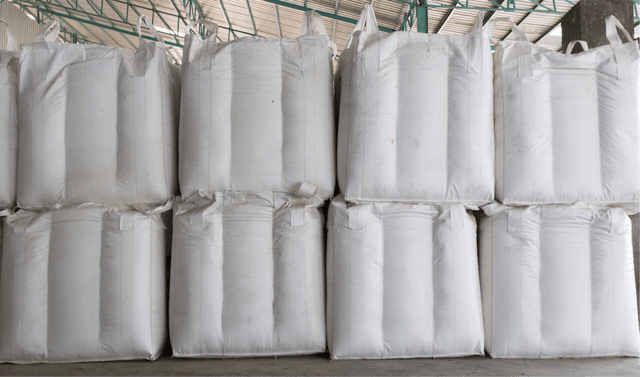 Do I need a FIBC with baffles?
Similar to most specialized bags the need for baffles depends on your product and application. Typically, baffled FIBCs are often used for finer materials in the food and pharmaceutical industries. Their reinforced structure makes them a better fit where better handling and safety are paramount. Baffled bag advantages include:
Easier stacking and storage
Enhanced form factor
Increased structural integrity
Easier handling
If you have any questions about bulk bags with baffles feel free to leave it in the comments section below!
---
Thanks for reading!
Thanks for visiting the National Bulk Bag blog! We hope you found this article helpful and informative.
Safety and reliability is our number one priority. Each bag that we sell has a safe working load (SWL) – with the most common being 2,200lbs and 3,000lbs. To make sure the product you're packing will not exceed the SWL of the bag you're interested in, you'll need to know the bulk density of the product you're packing as well as the cubic foot capacity of the FIBC.
Click the link below to download our Product Weight Guide and FIBC Volume Calculator to help you determine how much weight a specific bag will hold.