Storing and transporting food products such as pet food can be difficult. If your pet food product is food grade, you must mitigate increased regulations. Even if your product isn't food grade, you are constantly trying to prevent moisture exposure and contamination of your product. No matter what method you choose to transport you pet food product, it's extremely important to select the option that:
Best suits your operation

Creates the most successful storage and shipping process for your business

Streamlines the process and experience for your customer.
Let's examine 5 ways that flexible intermediate bulk containers can help you create a better storage and shipping process for your pet food business and streamline your customer's process and experience.
For regular updates, subscribe to our blog by filling out the "Subscribe to our blog updates form to the right.
#1 – Moisture Protection
When storing and transporting food product, moisture is a huge enemy and can ruin/spoil your product. Most bags can be accompanied by a polyethylene liner to help keep your product safe from moisture contamination. Although polyethylene liners don't make the bag completely "waterproof", they do create a barrier between your product and moisture helping your product remain safe.
For more information on different types of liners, click here to read our blog post "A Quick Guide to FIBC Liners".
#2 – Pest Protection
During the storage and transportation process, bulk containers can be exposed to pests such as insects and rodents. The likelihood of pest and insect exposure increases exponentially if your product travels via rail. Insect and rodent infestations can cause contamination of your food product. Bags can be sealed and help prevent pests from entering the bag. Although polypropylene is very sturdy and extremely hard for pests to chew through, that an insect or pest will not get through a bag, and into your product.
#3 - Minimize use of warehouse space for empty containers
Limited warehouse space is a challenge that all businesses face, and storage of both full and empty containers can be challenging especially when the container is large and rigid. Unused bags come to your facility in compact packaging and are easily stored until you are ready to use them. Given the compact packaging bags arrive in, you can easily store thousands of bags in your warehouse at any given time using minimal warehouse space.
Many bulk bag suppliers offer their loyal clients alternate warehousing options allowing them to utilize their warehouse space and pull bags that you have purchased as you need them. This an added benefit of working with some suppliers. Be sure to ask you supplier if this is something that they offer.
#4 - Cost effective
Large plastic and metal containers are very costly to both purchase, use, and maintain. Bulk bags are very cost effective bulk storage options costing anywhere from $6-$12/bag and can hold anywhere from 2,000-4,000 lbs. of product safely. Some bags are manufactured for multiple uses making them an even more cost-effective packaging option.
To learn more about multiple use bags, click here to read our blog post, "FIBC Bulk Bag Safety: 5:1 vs 6:1".
#5 - Easy to scale use
The entry cost to using jumbo bags is low. Most businesses/warehouses are outfitted with all necessary equipment to use bags without making additional equipment purchases making it easy to start using bags or at least test using them in to transport/store your product.
If you are exploring using jumbo gabs for the first time, be sure to check out our blog post "5 Things to Look For When Choosing a FIBC Supplier".
Thanks for reading!
It's our mission to make your bag buying experience easy, informative, and enjoyable. We also want to share our knowledge with you, so you can make the best purchasing decision for the company you represent. Our Buyer's Guide to Purchasing Bulk Bags includes critical information ranging from types of bags to important safety information about handling and transportation.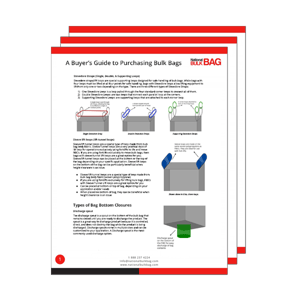 Download the guide by clicking below. By downloading, you'll learn all about:
Types of bags

Coated vs. uncoated

Liners

Bags with baffles

Types of lift loops

5:1 & 6:1 safety

guidelines

Much more!
Click the button below to download our comprehensive buyer's guide.