If you own and/or operate a construction operation, you know how tough it is to find a bulk container that is easy to use, easy to move, cost-effective, and something that your workers can depend on. Many construction sites continue to use large, hard to move steel bulk containers to dispose of large amounts of debris and various construction materials.
If you are currently using large, heavy, hard to use bulk containers, you should consider switching over to a more flexible and, in some cases, more cost-effective option: Flexible Intermediate Bulk Containers. Let's examine some of the advantages of using FIBCs to transport construction debris away from your construction site(s).
For regular updates, subscribe to our blog by filling out the "Subscribe to our blog updates" form to the right.
Advantages of using FIBC bulk bags on your construction site(s):
1) Safety: When you load and transport large amounts of stone, gravel, soil, debris and other various construction materials, it's important that the bulk container is very durable and extremely safe to use. When used properly, FIBCs are an extremely safe way to transport and store construction materials. FIBCs are manufactured using woven polypropylene creating an incredibly strong and flexible bulk container perfect for most construction applications.
2) Ease of Transport: FIBCs are flexible in nature (hence the name flexible intermediate bulk container) making transporting them to their end destination easier than other options. Not only is it easy to load full bags onto trucks, they can also have a close-able top to prevent the contents of the bag from falling out and creating hazards during the transportation process.
3) Cost-Effectiveness: Cutting costs and saving money is a priority of every business. Costs of transporting and disposing of construction materials can be costly and can eat into your already slim margins. Not only are these bags cost-effective, they are extremely lightweight which may help you reduce your overall transportation costs.
4) Efficiency: You are in the construction business. You know that having the right tools for the job is essential to being able to perform at your highest level. Having the right bulk container for your operations is no different. Properly using bulk bags can make your operation more efficient and effective.
5) Environmentally Conscious: Some bags are specifically manufactured for multiple uses and are made with a higher safety factor ratio of 6:1. When reusing bags, they should be used in a closed loop system and reconditioned an qualified for reuse by going through the process found here.
Bulk bags are made from virgin polypropylene, which is a common plastic that can be re-purposed into other plastic products. Most bags are suitable for recycling including those used to store construction materials making them an environmentally friendly bulk container.
Disclaimer: Bags are collected in large quantities by industrial recycling companies therefore recycling bags is usually only feasible for businesses that use large quantities of bags or ones that have the ability to store bags over time.
Thanks for reading!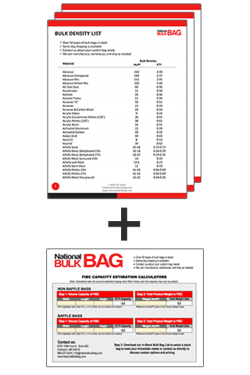 Thanks for reading about the advantages of using bulk bags in your construction business.
Safety and reliability are our top priorities. Each bag that we sell has a safe working load (SWL). To make sure the product you're packing will not exceed the SWL of the bag you're interested in, you'll need to know the bulk density of the product you're packing as well as the cubic foot capacity of the bag.
Click the button below to download our Product Weight Guide and FIBC Volume Calculator to help you determine how much weight a specific bag will hold.