When determining the optimal Flexible Intermediate Bulk Container (FIBC), it is extremely important to do your homework and ask the right questions. With varying safe working loads (SWL), sizes, and cubic foot capacities, there are a lot of options to sift through. Being prepared with the right questions and having basic research completed before you speak with a FIBC professional can expedite your buying process and ensure that you get the optimal bag for your application.
Let's examine three basic questions that you need answered to find the optimal bag for your agricultural operation. For regular updates, subscribe to our blog by filling out the "Subscribe to our blog updates" form to the right.
1. What type of crop/produce will you be storing and transporting?
Every crop/produce requires specific treatment. Special attention to the type of crop/produce that will be packed into the bag and the distance it will be traveling is required. For example, some produce such as potatoes travel best in bags with vent strips which allow air to reach the produce. A vented bag won't work very well for fine grains, as they will seep through the vents, so you may need to consider a bag accompanied with a liner to prevent moisture from reaching the produce.
Remember, using the right bulk bag for your product and application is essential to delivering a premium product to your clients.
2. What size of a bag is optimal for your application
Using the optimal FIBC size and design is imperative. With the optimal bag size and design, businesses can often reduce their overall packaging costs and at times also lower shipping costs.
Taking a comprehensive look at your operation, how your produce makes its way to your client, as well as your clients operations, is very important. Many of these factors may help determine what type of bag is right for your application, your operation, and your clients.
3. When do you need your bulk bags?
When searching for the right supplier, there are many important factors to consider. One of the most important factors is for you the buyer: "When do you need your bulk bags?" If you have an immediate need for bags, then you need to find a supplier with bags in-stock, ready for immediate shipment. If you have a 3 to 4-month window, then you can consider custom run bags that usually have lead-times ranging anywhere from 90-120 days. Many suppliers have agriculture friendly bags in-stock perfect for a wide range of crops/produce.
Thanks for reading!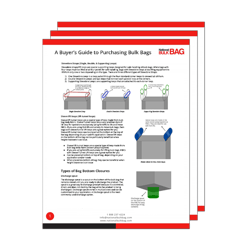 Thanks for reading our blog post "How to Select the Right FIBC Bulk Bag for your Agricultural Operation"!
It's our mission to make your buying experience easy, informative, and enjoyable. We also want to share our knowledge with you so you can make the best purchasing decision for the company you represent. Our Buyer's Guide to Purchasing Bulk Bags includes critical information ranging from types of bags to important safety information about handling and transportation.
Click the button below to download our comprehensive buyer's guide.