Bulk bags (also known as Jumbo Bags) have proven to be effective for storing and transporting a variety of products and materials, but a new use for these versatile woven polypropylene bags has recently emerged. With the explosion of the craft brew industry in the last 10 years, a demand for specialty malted barley has increased exponentially causing malters to look for a better way to transport their product to their customers.
Let's examine why malters are using jumbo bags to transport their product as well as identify a few different bags that are perfect for transporting malted barley. For regular updates, subscribe to our blog by filling out the "Subscribe to our blog updates" form to the right.
Using Jumbo Bags to Transport Malted Barley
Traditionally, specialty malters have used 50-pound bags to pack and transport their malt. As the craft brewing industry has grown, so has their demand for malt. With this demand, not only have most custom malters expanded their operations to meet the increase, but they have also been forced to find more economical and efficient methods of storing and transporting their product. Enter food grade FIBCs.
Food Grade FIBCs are perfect for the malting industry. Not only can they transport up to 3,000 lbs or more of product safely, food grade bags are manufactured in BRC certified facilities ensuring that they meet the strict standards set by the GFSI (Global Food Safety Initiative).
Branding and marketing have also become very important in the craft brew scene and jumbo bags can expand your reach. Your business is unique and your finished product should reflect that. Jumbo bags can be custom printed with your logo and name on them. From simple and clean black-and white-prints to full color imagery, you can expand your reach with every bag you ship.
If you are already using food grade FIBCs to store and transport your malted barley, be sure to view our in-stock bulk bags or download our in-stock food grade bulk bag list.
Thanks for reading!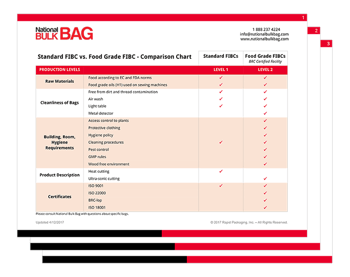 If you are in the malting OR brewing business, you need to download our Buyer's Guide to Food Grade Bulk Bags.
This guide will help you make the proper purchasing decision when considering food grade FIBCs. You'll learn about the standards, certifications, and specifications that make food grade bags unique.
Click the button below to download the Buyer's Guide to Food Grade Bulk Bags and learn everything you need to know before purchasing food grade bags!