As the bulk bag industry continues to expand, so do the number and types of industries taking advantage of the products and innovations offered by vendors. It seems like every day, we are learning about new and exciting uses of the product, especially as they continue to prove their value, flexibility and affordability. One industry that is well positioned to benefit from the innovative solutions offered by manufacturers is crumb rubber. Let's explore the crumb rubber industry, and how it can benefit from flexible intermediate bulk containers.
What is Crumb Rubber?
The crumb rubber industry deals with recycled rubber products, most often tires. Crumb rubber companies grind old tires and other rubber products into small chunks – or crumbs – for use in a wide range of applications. Crumb rubber can be used as a filler in synthetic turf fields, as a component in rubber-modified asphalt and even as ground covering in playgrounds.
Most crumb rubber facilities take in used products, then process them into crumb rubber for distribution to customers. This process requires the capture, storage and transfer of large volumes of fine rubber material as small as 0.0029 inches in diameter.
The Advantages of FIBCs in Crumb Rubber Applications?
To effectively service customers, a crumb rubber facility must be able to quickly transfer and transport these fine materials. That's where bulk bags come in. In crumb rubber applications, FIBCs offer a number of benefits, including their:
Affordability: One of the primary benefits of bulk bags is their low cost, especially when compared to Gaylord boxes, the standard storage and transportation solution currently used in the crumb rubber industry. Crumb rubber vendors who embrace the use of bags can significantly reduce operating costs.
Flexibility: Bulk bags can be easily stacked when the proper type is used. This allows crumb rubber facilities to store more material in a smaller area. This also allows facilities to store more empty bags with less footprint, as a standard pallet can hold around 200 bags. Those same pallets can only carry 50 Gaylord boxes.
Reusability: Certain bags can be reused, including 6:1 bags that are specifically manufactured for multiple uses. This helps to reduce costs and offers an environmentally friendly storage option. To learn more about the reuse of bags, read our recent blog post "FIBC Bulk Bag Safety: 5:1 vs 6:1."
Recyclability: Some bags can be recycled by specialized facilities. This can help to limit the environmental impact of operations across the crumb rubber industry.
Learn More About Using FIBCs in the Crumb Rubber Industry
If you are looking for an alternative storage and transportation solution for your crumb rubber operation, FIBCs may be the answer. However, it is important to talk to a knowledgeable distributor and to vet any potential supplier before making the switch. After all, not all distributors, or the products they distribute, are created equal.
To learn more about the factors to consider when vetting a distributor, read our blog post "Want a Quality FIBC? Vet your Supplier." For more insight into the potential use of bulk bags in your crumb rubber operations, contact us today.
---
Everything You Need to Know Before Purchasing Flexible Intermediate Bulk Containers.
It's our mission to make your bag buying experience easy, informative, and enjoyable. We also want to share our knowledge with you, so you can make the best purchasing decision for the company you represent. Our Buyer's Guide to Purchasing Bulk Bags includes critical information ranging from types of bags to important safety information about handling and transportation.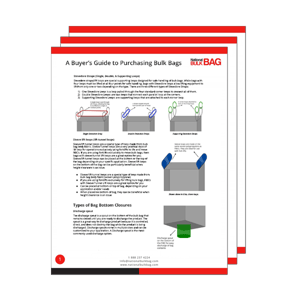 Download the guide by clicking below. By downloading, you'll learn all about:
Types of bags

Coated vs. uncoated

Liners

Bags with baffles

Types of lift loops

5:1 & 6:1 safety

guidelines

Much more!
Click the button below to download our comprehensive buyer's guide.