At National Bulk Bag, we are constantly striving to help our current and future customers stay safe while using FIBCs in their workplaces and/or production facilities. Part of this effort is a continuing dedication to releasing educational materials (be sure to check out our Official Safety Guide) and promoting other materials from our partners.
Recently, The Flexible Intermediate Bulk Container Association or FIBCA (to learn more about FIBCA, click here) released a brand-new video outlining new guidelines for using FIBCs with cranes, forklifts, and hoists. We believe it does a fantastic job outlining the various safety precautions that will significantly reduce the chance of workplace accidents when using FIBCs with these various pieces of equipment. In concert with this new video, we thought it was time to revisit our safe handling guidelines for cranes, forklifts, and cranes.
First Things First
Before we get into the specific safety precautions related to cranes, forklifts, and hoists, let's discuss a few baseline safety tips you can take in your facility regardless of what kind of lifting equipment you're using:
1. Always make sure equipment is rated for use with FIBCs
Using equipment that isn't rated for use with bulk bags is a quick way to put employees in danger. Make sure that if your equipment wasn't specifically designed for use with FIBCs, it is at least rated for use with them. If you're unsure, consult with your equipment dealer and/or manufacturer to find out.
2. Ensure safety latches exist and are being used
If your equipment comes with safety latches and/or harnesses, make sure that they are always being used.
3. Never exceed your max rated weight of the bag
This goes without saying, however, exceeding the SWL (safe working load) of your purchased FIBC can lead to disastrous consequences including injury and/or death.
4. Ensure equipment being used is free of sharp edges
If you're going to be using equipment to handle FIBCs, make sure there are no sharp edges. Rounded edges with a radius of 5mm at minimum are preferred. Sharp edges can tear your bag during handling and create a dangerous situation.
The Key Points
Now that we have covered the basics, let's start examining the key points of FIBC safety for forklifts, cranes, and hoists.
Forklifts
1. Never suspend the bulk bag with less than all loops provided on the bag
Using less that all loops provided can cause the bag to become unbalanced, leading to a dangerous situation and potential dumping of the bag's contents.
2. Ensure forklift tines are level so lift loops are always kept vertical
Keeping the lift loops vertical at all times ensures that the bag is not dragging and/or falling off the tines. This can help prevent accidental discharge.
3. If pallets are being used, make sure they are free of nails and protrusions and are properly sized
4. Keep the FIBC close to the mast and never tilted forward
Keeping the FIBC close to the operator and never tilted forward significantly reduces the chance the FIBC falls off the tines.
5. Never move the forklift if the operator's line of sight is blocked
Always ensure the operating space is clear of people and/or obstacles before moving the bag with a forklift
6. Keep clear of the ground and forklift wheels
7. Avoid fast starts and stops
Fast starting and stopping can cause the bag to move on the forklift tines potentially dislodging the bag and creating a significant safety hazard
8. Never push a bulk bag or drag on the ground
9. Stop any forklift motion before lowering and/or raising the bag
Don't ever raise or lower a bag while the forklift is in motion
Cranes and/or Hoists
1. Never suspend a bulk bag with less than all loops provided in the bag
2. Never gather loops to lift with a single hook
There are exceptions. If your bag is specifically designed to be lifted by a single loop, then this is acceptable
3. If you're lifting with a single hook, a sling, or other lifting devices, keep the lift loops vertical to prevent damaging lateral forces.
4. Never under any circumstances allow a person to be underneath a suspended bag
This goes without saying, however, this is one of the most important safety requirements when handling FIBCs.
5. All personnel must be clear of any safety hazards
6. Type C bag considerations
Address all electrostatic concerns before handling a FIBC and make sure any handling devices used for grounding the bag are clear of any substances and/or hazardous explosive materials.
Talk to Your Distributor
Specific products and/or applications can create potential safety hazards that are unique to your operation. Make sure your talk to your distributor. Explain your application, facility and any specialized equipment you may be using. Your distributor should be able to provide some extra safety tips upon request and can often identify potentially unseen risks.
---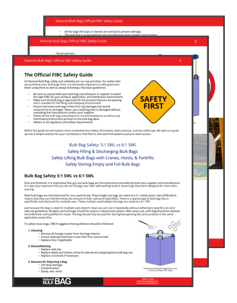 Thanks for reading, check out our Safety Guide!
At National Bulk Bag, safety and reliability are our top priorities. No matter who you purchase your bags from, it's extremely important to take great care when using them. Within this guide we explore comprehensive safety information, best practices, and key safety tips.
Our safety guide is split up into four sections for your convenience:
Bag safety: 5:1 SWL vs. 6:1 SWL
Safely filling & discharging FIBCs
Safely lifting FIBCs with cranes, hoists, & forklifts
Safely storing empty and full FIBCs
Download our Official Safety Guide by clicking the button below!