When handling FIBCs, it is imperative to follow safe use guidelines set forth by the manufacturer, your supplier, as well as the Flexible Intermediate Bulk Container Association also known as FIBCA.
When safe use guidelines for handling bags with cranes, hoists, and forklifts are not followed properly, accidents can occur with the result being injuries to your staff or even death. Whether you're handling your bags with a crane, hoist, or forklift, it's very important that you follow the guidelines below. Looking for safe handling guidelines for storing empty & full bulk bags? Click here.
For regular FIBC updates, subscribe to our blog by filling out the "Subscribe to our blog updates" form to the right.
Handling bulk bags with cranes hoists, & forklifts
It is crucial that you take great care when handling FIBCs. Full bags are extremely heavy (some weighing up to 5,000 lbs.) and when not handled with extreme care, the result can be an unsafe work environment. (Note: These guidelines are a summary of FIBCA's Safe Handling Guidelines) To safely and successfully handle bags with cranes, hoists, & forklifts, it is important you follow these best practices and make sure:
Your bag is free from damage that can compromise its strength.
The crane/hoist or forklift has a sufficiently rated weight capacity to support the filled bag.
The crane's hooks, bars or forklift tines used for lifting don't have sharp edges that may cause damage to the bag's lift loops or sleeves.
That all devices that are handling bags are designed specifically to do so.
All lift loops/sleeves are vertical to prevent damage.
The bag is lifted and suspended per the manufacturer and supplier's instructions.
The bag is raised and lowered smoothly.
All personnel wear the proper safety gear and stay clear of any potential hazards.
The distance between the forklift tines is the correct width for the bag that is being handled.
The forklift operator holds the bag close to the mast as low as possible, tilted back to a proper angle.
Any pallets being used are the appropriate size for the bag.
The forklift operator has a clear line of site before moving the bag.
The forklift is stopped before raising or lowering the bag.
All personnel are clear before lifting or lowering a bag.
Remember to never:
Handle a damaged bag.
Exceed the lifting capacity of the crane, hoist or forklift.
Handle bags with a device that is not specifically designed to do so.
Lift a bag with one hook unless it is specifically designed to be.
Move a bag if the machinery operator does not have a clear line of sight.
Allow personnel under a suspended bag.
Handle a bag in ways that are not specifically approved by the manufacturer and supplier.
Allow personnel to place a limb under a suspended bag.
Lift a bag with fewer lift loops or sleeves than provided.
Tilt the mast of the forklift truck forward when handling a bag.
Move a bag when the bag is touching the ground.
Allow a bag to come in contact with the forklift wheels.
Lower or raise a bag when the forklift is moving.
To insure a safe working environment, it is important that you adhere to all guidelines and best practices outlined above. For a comprehensive guide on safe bulk bag handling guidelines that include:
Storage of empty bags
Fill of bags
Handling with cranes or hoists
Handling bags with forklift trucks
Storage and transportation of filled bags
Empty/Discharging bags
Click here to download FIBCA's FIBC Safe Handling Guidelines. Also, please do not hesitate to reach out to our bulk bag experts with any questions you may have. We are happy to answer any safety related questions.
---
Thanks for reading!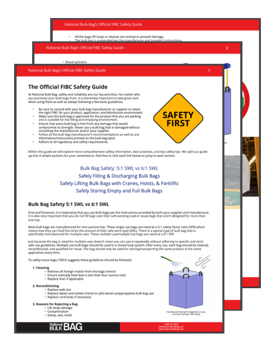 At National Bulk Bag, safety and reliability are our top priorities. No matter who you purchase your bulk bags from, it's extremely important to take great care when using them. Within this guide we explore comprehensive safety information, best practices, and key safety tips.
Our safety guide is split up into four sections for your convenience:
Bulk bag safety: 5:1 SWL vs. 6:1 SWL
Safely filling & discharging FIBCs
Safely lifting FIBCs with cranes, hoists, & forklifts
Safely storing empty and full FIBCs
Download our Official FIBC Bulk Bag Safety Guide by clicking the button below!