We've asked this question quite a few times on the National Bulk Bag blog: how do buyers know they are working with a quality distributor? Quality overseas suppliers is a key attribute that sets US distributors apart from the competition. If you don't have quality suppliers, you won't have quality product – and you, the customer, end up paying the price.
We've also talked in the past about how vetting suppliers is a mandatory part of being a responsible and quality distributor. However, we've never really discussed what quality distributors do to vet their suppliers and what factors go into a quality distributors' decision when sourcing FIBCs. In today's post, we discuss the 5 things quality distributors do to vet their overseas suppliers and why it is important to any buyers' purchasing decision.
The 5 Things
1) Stability in the Supply Chain
If distributors want quality FIBCs to sell their customers, they must have a stable and reliable supply chain. The supply chain is crucial for 2 reasons:
Because FIBCs are sourced primarily from Asia, lead times on new orders (primarily new custom bag orders) can be lengthy. At National Bulk Bag, we look for suppliers to be able to fulfill orders within a 60-90 day lead time.

Reliability is a MUST. If a supplier tells a distributor an order has a lead time of 75 days, then they must meet that lead time. Having a stable supply chain significantly decreases the risk of missing lead times. Distributors must be able to count on the lead times provided to them by their suppliers in order to keep inventory levels adequate and meet the needs of buyers.
2) The Supplier Must be Able to Meet the Unique Needs of Unique Buyers
As you already know, no two FIBCs are exactly alike. For example, National Bulk Bag stocks over 75+ different types of bags at all times and has fulfilled custom orders on hundreds of other variants. Anything from food grade certified to pharmaceutical grade bags are common orders that we receive every month. This requires suppliers that are versatile in what they are able to manufacture. They must be able to offer the various construction options, color specifications, printing and labeling, as well as the many grades of manufacture required for different products and applications.
3) Internationally Recognized Inspection Certifications
Many would think this goes without saying, but you'd be surprised how many overseas suppliers can't pass even the most basic inspections. Beyond the simple 'eye-test' conducted when/if a distributor visits an overseas supplier, quality distributors will make sure that the suppliers' facilities have passed internationally recognized inspections and maintain the associated certifications at all times. Some of these include BRC Food Certification (food grade), SQF Certification (food grade), ISO 9001 (quality management), ISO 14001 (Environmental Management), ISO 18001 (Occupational Health and Safety Management), ISO 22000 (Food Safety Management), ISO 27001 (Information Security Management).
Note: Quality distributors usually look for additional labor certificates. These can come in a variety of forms such as the WRAP (Worldwide Responsible Accredited Production), Together for Sustainability Certification, and SMETA (Sedex Members Ethical Trade Audit Report).
4)
Quality Control Processes and Testing
In order to ensure that a supplier is providing a quality bag to a distributor, they must have QC (quality control) processes in place and be constantly batch testing bags as they come off the line. Batch labeling and testing is a key part of this process. If a distributor receives a bag from a supplier that is not up to quality standards, batch numbers and labels can be used to trace that specific bag back to a supplier and specific product batch. This transparency allows for proper accountability between a distributor and supplier – this decreases the risk of a low-quality bag making its way to a buyer.
5)
Investment and Constant Improvement
This is something that we at National Bulk Bag put a big time premium on when searching for suppliers. Are suppliers investing in themselves and their facilities? Are they constantly improving their equipment and processes? Are they keeping up-to-date with the latest technology and industry standards? Quality distributors want to know that their suppliers are investing in themselves. Constant improvement from suppliers is something that many distributors overlook but should be a differentiator when it comes to choosing who you buy from.

---
Thanks for reading, check out our New Buyer's Guide!
It's our mission to make your bag buying experience easy, informative, and enjoyable. We also want to share our knowledge with you, so you can make the best purchasing decision for the company you represent. Our Buyer's Guide to Purchasing Bulk Bags is a great starting point for any decision. It contains critical information ranging from types of bags to important safety information about handling and transportation.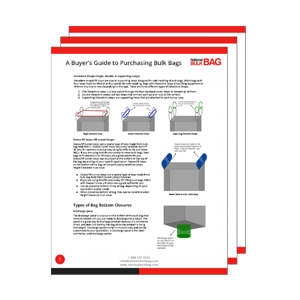 Download the guide by clicking below. By downloading, you'll learn all about:
Types of bags

Coated vs. uncoated

Liners

Bags with baffles

Types of lift loops

5:1 & 6:1 safety

guidelines

Much more!
Click the button below to download our comprehensive buyer's guide.