Flexible Intermediate Bulk Containers (FIBCs) are a fantastic bulk packaging option for businesses all over the world. Whether you are storing and/or transporting a dry flowable product, food grade products, or even hazardous materials, bulk bags can store and transport your product safely and efficiently.
If you are exploring new methods for transporting and storing your product or wondering why you should continue to use FIBCS, here are 7 reasons why.
For regular updates, subscribe to our blog by filling out the "Subscribe to our blog updates" form on this page.
1) Customizable
Flexible Intermediate Bulk Containers are a versatile bulk packaging option and can be customized to meet your operation's needs. Customizable features on a bag include:
Size & capacity
Filling & discharging features
Safe working load (SWL)
Color
Type of bag (A, B, C, & D)
Food grade
And more!
More custom options are available and most capable suppliers should have a trained staff to help you navigate the process of building a custom bag that meet the specific requirements of your application.
2) Package to Product Weight Ratio
Flexible Intermediate Bulk Containers have the lowest package to product weight ratio of any intermediate bulk container available meaning you can ship a lot of product with little additional packaging weight. Using a standard size bag such as 35x35x35 uncoated, you can ship up to one metric ton of product with a package weight as little as 5-7 pounds!
3) No Pallets Necessary
Unlike gaylord boxes and other types of bulk containers, FIBCs can be handled, transported, and stored without pallets because they are equipped with lifting loops easily used by forklifts, cranes and hoists. Not requiring pallets also limits their overall footprint which helps make them one of the most versatile bulk packaging options available.
4) Minimal Warehouse Space Required
Warehouse space is extremely valuable and for most businesses, quite limited. When full, flexible intermediate bulk containers can be stacked to save valuable warehouse space and when empty, they are lightweight and can be folded flat to use a fraction of the warehouse space required by other bulk containers.
Click here to learn more about stacking bags and other safety guidelines.
5) Unmatched Versatility
Bulk bags are one of the most versatile bulk packaging options available and can be used to transport and store a wide range of solid products such as, but not limited to:
Chemicals & Pharmaceuticals
Metals, Minerals, & Mining
Food Grade Products
Agriculture
Construction/Building Materials
Dairy, Meat, and Poultry
And much more!
6) Recyclable (Environmentally Friendly)
Most Flexible Intermediate Bulk Containers are made from virgin polypropylene which is a common plastic that can be re-purposed into other plastic products. Most bags are suitable for recycling including those used to store and transport construction materials, chemicals, grains, fertilizers, pigments and plastics.
Some bags are also reusable. Bags with a safety factor ratio of 6:1 are specifically designed for multiple uses. For more information on recycling and reusing bags, see our post "Reuse and Recycle Guidelines for Bulk Bags" by clicking here.
Note: Recycling facilities typically require truckload quantities of FIBC's to take advantage of the service. For more information on bag recyclers, consult with your bag supplier.
Thanks For Reading!
It's our mission to make your bag buying experience easy, informative, and enjoyable. We also want to share our knowledge with you, so you can make the best purchasing decision for the company you represent. Our Buyer's Guide to Purchasing Bulk Bags includes critical information ranging from types of bags to important safety information about handling and transportation.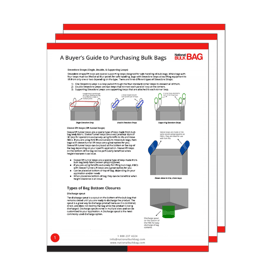 Download the guide by clicking below. By downloading, you'll learn all about:
Types of bags
Coated vs. Uncoated
Liners
Bags with baffles
Types of lift loops
5:1 & 6:1 safety guideline
Much more!
Click the button below to download our comprehensive buyer's guide.