If you're working with a quality FIBC distributor, chances are they have an available in-stock bag that will work for your product and application. This is generally a fantastic option as it is usually a cheaper option, offers significantly reduced lead times (time from bag purchase to delivery), and can deliver large quantities quickly. However, there are circumstances where an in-stock bag may not be compatible with your operation and/or facility.
There are also situations where a custom bag is just a better fit and offers a better long-term solution than an in-stock bag. For these situations, we recommend a custom bulk bag. Custom bags are tailored to your company/facility's needs. Whether that is specialized top or bottom construction, a custom color option, or a resin additive to prevent insect contamination, custom bags can be created to address a variety of needs/wants.
Why Custom Bags?
The most common situations we see that require the use of a custom FIBC solution are industry specific applications. Certain industries like the food and pharmaceutical industries have specific needs due to the equipment they use and the regulatory environment their companies operate under. These situations can often necessitate the need for a bag with a specific color (like use with hazardous materials) or specific safety features (like Type C bags with static electricity mitigation built in).
Quality distributors can work with buyer's in these situations to custom tailor a bag to meet all requirements. These bags can then be sourced overseas to save costs and provide a higher-quality long-term solution.
Specialized Equipment
Beyond specific industry applications, custom bags are also a fantastic option for companies using specialized equipment. We at National Bulk Bag get requests for custom spout-top sizes that accommodate specialized filling equipment that exists in a product line. The same applies to bottom construction and specialized discharge. For example, hemp operations run into an issue called "bridging" where the product becomes stuck on discharge from a standard spout-bottom bag. To accommodate this, National Bulk Bag designed a custom hemp FIBC with a larger bottom discharge spout.
Another common request is custom lift loops. Many machines have specialized lifting mechanisms that require specific lift loop types to operate safely – making a custom bag solution a fantastic fit.
Disadvantages to Custom Bags
Custom bags can be a great option when an in-stock bag won't work, however they aren't without drawbacks. If additional specifications are requested during the ordering process, this can drive the price of the bag up versus a standard solution. Smaller quantities ordered can also drive the cost per bag up (this applies to all FIBCs). However, larger orders (like an entire shipping container) can drive the per bag price down significantly resulting in a custom bag price that is comparable to an in-stock bag.
Second, lead times are significantly longer on custom bag solutions as they must be spec'd out, manufactured overseas, and shipped to the USA. Typical lead times on custom bags are 90-120 days from purchase order. However, the lead times issue can often be mitigated by a quality distributor finding an in-stock bag that can work until a custom solution arrives. Once a custom bag is spec'd out, quality distributors may offer warehousing space locally to stock your custom bag should you need higher quantities quickly.
---
Thanks for reading!
It's our mission to make your bag buying experience easy, informative, and enjoyable. We also want to share our knowledge with you, so you can make the best purchasing decision for the company you represent. Our Buyer's Guide to Purchasing Bulk Bags includes critical information ranging from types of bags to important safety information about handling and transportation.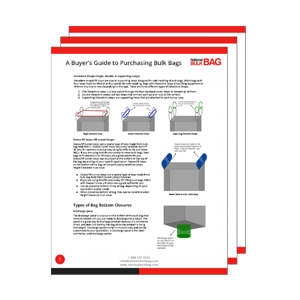 Download the guide by clicking below. By downloading, you'll learn all about:
Types of bags

Coated vs. uncoated

Liners

Bags with baffles

Types of lift loops

5:1 & 6:1 safety

guidelines

Much more!
Click the button below to download our comprehensive buyer's guide.