Recently we discussed using full bottom discharge (diaper bottom) flexible intermediate bulk containers with certain products like wet coffee grounds and other wet or high moisture products. This brought to light that we at the National Bulk Bag blog have not talked very much about the use of bulk bags with wet/high moisture products and/or materials. Let's change that. In this post, we discuss the best practices when handling wet products and/or materials and what bag features to look for that can help mitigate some of the issues that come with those products/materials.
The Challenges of Wet Products and Materials
It may seem like a trivial topic to discuss, but for many users of bulk bags dealing with wet products and/or materials is an everyday part of their work week. Let's examine some of the challenges that come with using bags with wet or high moisture products/materials.
Product/materials are very wet

If the product and or materials being used with the FIBC are too wet, moisture and/or water can seep through the seams and/or fabric of the bag. In most applications this is unacceptable.

Wet product is significantly heavier

Water is heavy and if your bag contains a large amount of it along with your product/materials, this adds a significant amount of weight in the same volume (same space in the bag). This can create issues regarding the safe working load (SWL) of your bag.

Product/materials is too moist during storage

Certain products (like industrial hemp) that are too moist during storage have a high risk of molding. This can ruin the product/materials and cause a serious headache for the user, not to mention a large financial issue from ruined product.

Spout bottom becomes clogged during discharge

We've received customer feedback regarding the use of spout bottoms with wet products/materials that suggests spout bottoms can easily become clogged during discharge. This is obviously a major issue as it's not only inconvenient to attempt to unclog a spout but can in certain circumstances be dangerous.
Have you experienced any other issues when using FIBCs with wet products/materials? Let us know in the comment section below!
Solving the Challenges of High Moisture Products/Materials
While we certainly can't solve all the issues surrounding wet products/materials and FIBC use, we can definitely take some steps to mitigate many of them.
If seepage is an issue, use a liner

Liners are extremely effective at keeping moisture in the bag and preventing materials of any type from getting in or out of the bag. Liners can be purchased separately or pre-inserted into the bags that you order.

If weight is an issue, use a high SWL (safe working load) bag

The vast majority of FIBCs stocked at US-based suppliers have a SWL of around 2,000-3000 lbs. However, there are larger SWL bags available. These bags are made with a thicker fabric and heavier weight and can often have heavier duty stitching. These bags have SWL's anywhere from 4,000 all the way up to 5,000 lbs.

If your product is molding, avoid liners and coating and consider a vented bag

If you have a product that contains moisture is susceptible to molding, having a bag that allows the product to breathe is crucial. You should avoid using a liner at all costs and try to avoid coated bags. If extra airflow is required, you may want to look into using vented bags.

If your spout bottom is clogging, consider a full bottom discharge (diaper bottom) bag

Generally speaking, we would recommend avoiding spout bottom bags with wet products/materials because of the clogging issue. A great alternative is a full bottom discharge or diaper bottom bag. You can learn more about these bags by clicking here.
---
Thanks for reading, check out our New Buyer's Guide!
It's our mission to make your bag buying experience easy, informative, and enjoyable. We also want to share our knowledge with you, so you can make the best purchasing decision for the company you represent. Our Buyer's Guide to Purchasing Bulk Bags is a great starting point for any decision. It contains critical information ranging from types of bags to important safety information about handling and transportation.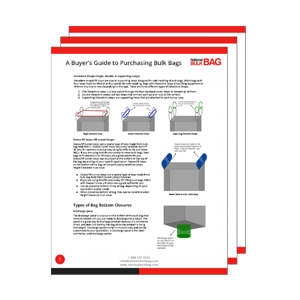 Download the guide by clicking below. By downloading, you'll learn all about:
Types of bags

Coated vs. uncoated

Liners

Bags with baffles

Types of lift loops

5:1 & 6:1 safety

guidelines

Much more!
Click the button below to download our comprehensive buyer's guide.