When it comes to sourcing FIBCs you have two options – buying from a domestic manufacturer in the US, or a distributor that partners with overseas manufacturers. The vast majority of bulk bags distributed in the US are made overseas.
Despite the trend to source bags overseas, there are still some distributors that purchase from US-based manufacturers. They often claim to have a superior quality product and better lead times, but in truth many distributors that source FIBCs overseas offer the same high quality product with reasonable lead-times and competitive prices.
It's All About Price
By far the biggest attraction to overseas manufactured bulk bags is price. The cost of labor to produce FIBCs overseas is significantly less than in the US. The result is significant cost reductions when producing overseas. Even when you add the costs of transportation and importation to the manufacturing costs, overseas bags are still significantly less expensive than bags manufactured in the US. This results in big cost savings for the purchaser even when buying through a domestic supplier.
However, the perceived quality of American made products have consumers often paying more for a product or service of the same quality. In the end, you want a quality product at the best value. What if you could have both?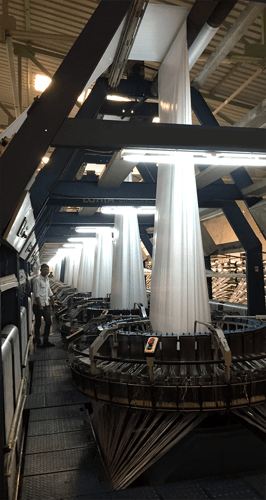 Quality FIBCs from Overseas Manufacturers
US based manufacturers often claim that their facilities are superior to overseas competition; however, significant improvements in overseas manufacturers have closed the gap.
Many bulk bag manufacturers abroad now use the highest industry standards including BRC and AIB to insure their FIBCs meet the best quality standards. This has transformed the industry to the point where there is essentially no quality difference between a FIBC made in the US versus overseas.
Overseas manufacturers have also upgraded their facilities to accommodate specific food-grade and pharmaceutical quality production standards (BRC standards) that are higher than standards for typical bulk bags. These standards include:
Proper ventilation
Pest Control Procedures
Metal Detection
Light Table Inspection
Proper Personnel Wardrobe
Proper Personnel Hygiene
HACCP (Hazard Analysis and Critical Control Points) Program
Record Keeping
Lead Times and Warehousing
When FIBCs are manufactured overseas, they must be shipped locally to the port, wait to be packed into a crate, loaded onto the ship, and then transported across the ocean to the US. This process can often result in lengthy lead-times creating costly delays in the daily operations of businesses that use the bags. Distributors that purchase from US based manufacturers boast that by manufacturing locally they can significantly reduce lead times associated with overseas production.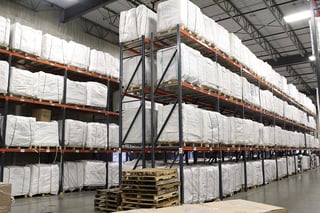 Enter warehousing.
Distributors that import bags combat the notorious lead-times associated with overseas sourcing with substantial warehousing capabilities. Domestic warehouses located across the US allow distributors to stock large volumes of a variety of bulk bags in different locations across the country. This results in shorter lead-times and easier access to bags near you.
Domestic FIBC distributors will often carry an in-stock bag locally in a warehouse for your application allowing the purchaser to bypass the extended lead-times. The bulk bag order is then fulfilled in a domestic warehouse and shipped immediately. If you need a custom bag, distributors that source overseas will spec out your bag, manufacture it overseas, and house these bags locally and managed inventory levels. This allows them to capitalize on the low pricing of a bag sourced overseas and the shortened lead times of local warehousing while simultaneously getting the convenience of a bag made in the US – the best of both worlds.
Globalization Is Your Ally
Modern bulk bag suppliers have created proven processes in sourcing, warehousing, and distribution to bring you low cost bags manufactured overseas while maintaining the high-quality standards of domestic manufacturing. Globalization has essentially eliminated the need to purchase bags domestically allowing buyers to get high quality bags at a low price.
Thanks for reading!
Thanks for reading our blog post "FIBC Manufacturing: USA versus Overseas"!
It's our mission to make your buying experience easy, informative, and enjoyable. We also want to share our knowledge with you so you can make the best purchasing decision for the company you represent. Our Buyer's Guide to Purchasing Bulk Bags includes critical information ranging from types of bags to important safety information about handling and transportation.
Click the button below to download our comprehensive buyer's guide.