If you've been following the National Bulk Bag blog, you'll know that providing readers with quality information about FIBCs is a top priority. The hope is that if our readers are armed with the best information, they can make the best purchasing decision and ensure they get a quality bag from a quality distributor. A big part of that process is quality control and quality assurance (QA).
It's important to ask your distributor about their processes and methods regarding QA. Remember, most FIBCs are produced in overseas manufacturing facilities, and if your distributor isn't doing their due diligence regarding their suppliers QA processes, then how can you be sure you're getting a quality product? Here are some of the QA practices quality distributors look for in manufacturers.
Batch Numbers
In the bulk bag industry, every solid QA program starts with batch numbers. Batch numbers (also referred to as "lot numbers") are designations that are printed on the product and/or product batch that allows the history of the product to be traced back to the manufacturer (and often the manufactured date, etc.).
Batch numbers are a crucial and critical part of any good QA program as they provide a sure-fire way to track an individual batch of product. If a distributor receives a bad batch of bags from a manufacturer or receives a report from a client of a faulty bag, they can quickly trace that bag back to the correct manufacturer and begin to rectify the issue. On top of that, if any other bags from the same batch were sold, they can be recalled or discarded immediately. Faulty bags are a big safety risk and should NOT be used under any circumstances.
Batch Testing
Batch testing is a process carried out by the manufacturer where individual bags are pulled out of each batch and rigorously tested for quality, durability, and overall performance. This is a key measure in the QA process as it aims to prevent faulty bags from shipping. By testing individual bags as they come off the line, manufacturers can often spot defects and/or other issues with bags before they are shipped overseas to distributors. This significantly reduces the chances of shipping faulty products and enhances the safety of FIBC use.
What To Do When You Have An Issue with a Bulk Bag
If you or anyone at your company/facility discover any issues with the bulk bags you're using, the first thing to do is STOP using the bag immediately. Faulty bags can present a significant safety risk to users. Immediately contact your distributor to report the defective bag. The bag's batch number will allow your distributor to properly investigate the issue and track any other bags from the batch. This will also allow your distributor to replace any defective bags with new bags from a different batch (in order to prevent future issues).
It's important your distributor has good relationships with their manufacturers and have properly vetted them and their QA processes. If your distributor isn't holding your manufacturer accountable, then they can't be sure they're selling you a quality product. That is not only unacceptable but puts anyone using FIBCs in your facility needlessly at risk due to faulty products.
---
Thanks for reading, check out our New Buyer's Guide!
It's our mission to make your bag buying experience easy, informative, and enjoyable. We also want to share our knowledge with you, so you can make the best purchasing decision for the company you represent. Our Buyer's Guide to Purchasing Bulk Bags is a great starting point for any decision. It contains critical information ranging from types of bags to important safety information about handling and transportation.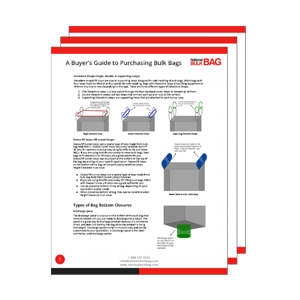 Download the guide by clicking below. By downloading, you'll learn all about:
Types of bags

Coated vs. uncoated

Liners

Bags with baffles

Types of lift loops

5:1 & 6:1 safety

guidelines

Much more!
Click the button below to download our comprehensive buyer's guide.