If you're in the business of storing and transporting materials, you know that finding the right solution can be challenging. FIBC bulk bags are becoming increasingly popular as a reliable and cost-effective option for many industries, including pharmaceuticals, food, agriculture, and construction. Let's take a look at why FIBC bulk bags are an ideal choice for storing and transporting.
What Are FIBC Bulk Bags?
FIBC (Flexible Intermediate Bulk Container) bulk bags are large fabric sacks that are used to store, handle, and transport dry products and materials such as powders, grains, animal feed, etc. They come in various sizes and shapes and can hold anywhere from 500 pounds to several tons of material at once. They are made from durable fabric materials such as polypropylene or woven polyethylene, which makes them ideal for storing and transporting materials as they will not leak or tear easily.
Benefits of Using FIBC Bulk Bags
Using FIBC bulk bags is convenient because they can hold large volumes of material without taking up too much space. They also reduce the need for manual labor when loading and unloading material since they can be quickly filled with a conveyor or other automated systems. Furthermore, they can be easily moved around using forklifts or pallet jacks without taking up too much space on the truck or warehouse floor. This makes them an ideal solution for storing and transporting a wide variety of powder substances, including but not limited to pharmaceutical powders, agricultural products, food products, and construction materials.
Durability & Strength
FIBC bulk bags are made from strong woven polypropylene fabric, which is incredibly durable and long-lasting. This means that your goods will remain safe and secure during transportation or storage. What's more, these fabrics are resistant to tearing or puncturing, so you won't have to worry about spills during transport or handling.
Cost-Effective Solutions
FIBC bulk bags come with a number of cost-saving benefits compared to other packaging solutions. For starters, they are lightweight and require less material than alternatives, such as sacks, drums, or gaylords, resulting in savings with shipping costs. Additionally, some FIBC bulk bags are reusable, allowing for multiple uses and a much more cost-efficient solution for businesses.
Convenience & Efficiency
FIBC bulk bags come with a number of convenient features designed to make your life easier. For instance, they come with attachments such as lift loops, making lifting and moving them around easier when using cranes or forklifts. Furthermore, they are designed to stand upright even when full, making filling much easier and reducing the risk of spills while being handled. Additionally, they can be sealed quickly and easily, ensuring that your powder substance remains safe during transportation or storage.
Easy Discharge
FIBC bulk bags are an ideal solution for discharging materials due to their unique design. These bags are fully customizable and feature strong seams and an air-tight closure system which helps to contain the contents and prevents it from spilling or becoming airborne. Bulk bags can have a discharge spout on the top and/or bottom of the bag, which makes it easy to pour into other containers or machines in various applications. Additionally, the material is highly breathable, ensuring you don't have to worry about clumping or uneven distribution of the powder.
Using FIBC bulk bags is an effective solution for industries requiring efficient storage and transport solutions. Due to their lightweight design and durability features, they are safe and easy to use while reducing manual labor costs associated with loading/unloading materials onto trucks or warehouse floors. With proper safety precautions taken while using these bulk containers, there are minimal risks associated with potential spills or contamination incidents when handling materials in industries such as pharmaceutical production, food manufacturing, agricultural production etc. Ultimately making this type of container an ideal choice for those looking for a cost-effective storage and transport solution.
More Information on Bulk Bags
For more information on how FIBCs can benefit your business, contact us today!
---
Thanks for reading, check out our New Buyer's Guide!
It's our mission to make your bag buying experience easy, informative, and enjoyable. We also want to share our knowledge with you, so you can make the best purchasing decision for the company you represent. Our Buyer's Guide to Purchasing Bulk Bags includes critical information ranging from types of bags to important safety information about handling and transportation.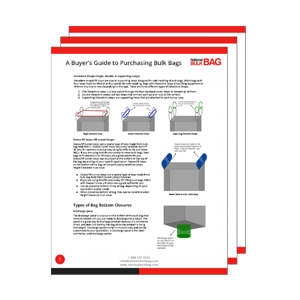 Download the guide by clicking below. By downloading, you'll learn all about:
Types of bags

Coated vs. uncoated

Liners

Bags with baffles

Types of lift loops

5:1 & 6:1 safety

guidelines

Much more!
Click the button below to download our comprehensive buyer's guide.