BRC (British Retail Consortium), now recently rebranded to BRCGS (British Retail Consortium Global Standards) has recently updated the guidelines for their standards with their Issue 8 release.
The Issue 8 release is the latest revision of the BRC auditing code. It contains new information on how the BRC evaluates and certifies facilities and processes that guide their certification process. These standards are especially relevant for buyers of food grade bulk bags as the BRCGS certification impacts the facilities that manufacture food grade bags.
What is BRC (now BRCGS)?
BRC (now BRCGS) stands for British Retail Consortium Global Standards. Under the GFSI umbrella, BRCGS provide a certification for manufacturing facilities that certifies them under food safety standards. This is one of the recognized certifications for FIBC manufacturers that produce food grade bulk bags.
BRC recently underwent a rebranding changing their name from BRC to BRCGS. For more information about this change, check out this post on the subject.
What is BRC Issue 8 and What's New?
Every so often the BRCGS updates their standards to reflect new changes in the industry and to update their processes to address these changes. BRCGS Issue 8 is the latest update in their on-going effort to stay up-to-date and relevant.
Issue 8 brought with it eight new changes/additions of note. Here are those changes:
Removing second/split unannounced audits as an option

Under the previous Issue 7, BRC offered three different options for the auditing of facilities: a full announced audit, a full unannounced audit, and a split unannounced audit. The split unannounced audit essentially created two different audits (one unannounced and a second announced audit). The removal of the split unannounced audit option reflects that the full unannounced option was largely preferred as it gives more confidence to the certification process and those who rely on the standard.

Greater emphasis on the "food safety culture" parts of BRCGS

A culture of food safety is something that has always been a part of the BRC standards and certification process. However, with Issue 8, a greater emphasis has been placed in the language with regards to the healthy creation and promotion of food safety culture that runs from the employees all the way up through management. The subjective nature of any company's culture is recognized, and the auditor will not be required to evaluate the culture directly. However, documented measures to promote a food safety culture within an organization will be subject to audit as part of BRC Issue 8.

The reporting of "significant food safety issues"

In BRC Issue 7, certified companies/facilities were required to report any time there was a product recall. In the new BRC Issue 8, the specific facilities within an organization are required to report any "significant food safety issues". This includes product recalls (like Issue 7) but has been extended to include any situation where a regulatory authority insists on action (like an enforcement notice, etc.) due to a product safety issue, legal concern, and/or adverse media attention relating to a product safety or food safety incident that has the potential to harm a consumer.

Consolidation of "high risk, high care and ambient high care requirements" into Section 8

In BRC of Issue 7, clauses referring to these "high risk, high care and ambient high care requirement" production facilities were found under sections 4 and 7. These clauses require these sites to demonstrate that production controls are suitable to prevent pathogen contamination of products being produced. These clauses and requirements have now been consolidated under Section 8 of the new Issue 8. These facilities not only need to meet these new Section 8 requirements, but requirements outlined in sections 1-7 as well.

Creation of Section 9 regarding "requirements of traded goods - voluntary module"

Section 9 consolidates a lot of requirements in the now outdated Issue 7 regarding requirements to operate procedures for approval that ensure food products are safe, comply with legal requirements and are manufactured in accordance with product specifications. In section 9, all non-conformities regarding Section 9 will now be included in the overall grade given to the facility in question.

The inclusion of specific pet food industry language and guidance

Specific pet food language has been added under Section 5 (Clauses 5.1.5 – 5.1.7) in order to assist pet food manufacturers adhere to the BRC Global Standards. This includes the procedures involved when dealing with products for various animal species and making sure they are designed properly for their intended use (complete diet food vs. supplements, etc.). It also includes requirements that medicated foods be labeled properly and precisely, materials are clearly identifiable, and that the correct concentrations are being used during the manufacturing process.

The creation of a whistleblower system

Launched alongside the BRCGS's new whistleblower hotline, the new whistleblower system requires that complying organizations document and implement a process for which employees can communicate all concerns regarding product safety, integrity, quality, and legal issues to senior management confidentially. The methods in which this communication takes place (email, phone number, etc.) need to be clearly defined, documented, and communicated to all employees.

New cyber security clauses

New to Section 3 of the BRCGS is clause 3.11.1 – a new requirement that organizations implement procedures to document and properly handle cyber-attacks and/or failure of their internet security.
How Does Issue 8 Impact Food Grade FIBCs?
BRCGS Issue 8's impact on the food grade bulk bag industry is more indirect than direct. Remember, BRCGS doesn't certify food grade bulk bags – they certify the facilities in which they are manufactured.
This means that the majority of the impact comes in the actual product – food grade bags. Up-to-date standards ensure that the food grade bags that US distributors are sourcing overseas and selling in the US are properly manufactured to recognized food grade standards. This is crucial to maintaining confidence during product use – especially in sensitive industries like food and pharmaceuticals.
It is also important to note that Issue 8 became compulsory as of February 1st, 2019.
A full copy of the BRCGS Issue 8 can be downloaded by clicking here.
---
Thanks for Reading!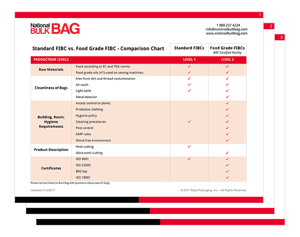 In today's competitive food marketplace, IFS and other GFSI recognized accreditations are increasingly important and you need the right packing to ensure compliance.
With over 20 years of food industry experience, National Bulk Bag has the expertise to help you select the right food grade certified bag for your product.
Click the button below to download our Food Grade Bulk Bag Buyer's Guide. By downloading this guide, you will get access to our food grade comparison chart, things you should look for in a food grade supplier, and everything else you need to know about purchasing food grade bags.