GFSI is at the center of all things food grade in the FIBC industry. As the largest food safety organization in the world, their ability to recognize and certify the various food safety programs is critical to any products involved in the production, distribution, or processing of food. This is why at National Bulk Bag we only distribute food grade bags that have been certified by GFSI recognized organizations. Five of the many GFSI recognized programs most impact the bulk bag industry – we wrote about them in this post (click here to learn more).
Staying up to date on the latest information in the food industry is critical to properly distributing these bags. We pride ourselves in the ability to help our partners in the food industry find the right bag for their product and application. A big resource for both us and our partners is the GFSI website. Recently redesigned, the GFSI website is a virtual treasure trove of information about the food industry, the various recognized programs, and industry news. We've put together some of the highlights.
The Library - Where All the Treasure Lives
The "Library", located in the top menu on mygfsi.com, is where the vast majority of quality online content can be found on the site. It is divided into 6 different categories by topic. Let's examine each one individually:
Why this Site is Important to Food Grade FIBCs
As we previously stated in this post (and talked about here) there are 5 GFSI programs that directly impact the food grade FIBC industry. If anything, this website serves as an information hub for those recognized standards. As a purchaser of food grade bags, you may not realize it, but these standards impact the bags we distribute and the suppliers we use. In that sense, GFSI plays a very important role in guiding our own decision-making processes in the food industry.
For more information about GFSI, visit their website at https://mygfsi.com/
---
Thanks for Reading!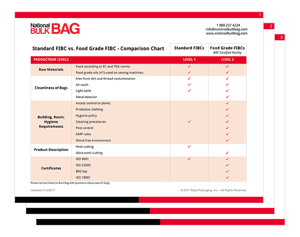 In today's competitive food marketplace, IFS and other GFSI recognized accreditations are increasingly important and you need the right packing to ensure compliance.
With over 20 years of food industry experience, National Bulk Bag has the expertise to help you select the right food grade certified bag for your product.
Click the button below to download our Food Grade Buyer's Guide. By downloading this guide, you will get access to our food grade comparison chart, things you should look for in a food grade supplier, and everything else you need to know about purchasing food grade bags.