When transporting and storing food grade products with FIBCs (flexible intermediate bulk containers), it's important to have safe and secure bags that meet the strict requirements set forth by the FDA (Food & Drug Administration), and to purchase them from a supplier whose bags are manufactured in a BRC certified facility. BRC meets the GFSI (Global Food Safety Initiative) standards.
What is the BRC? What does it mean to be BRC or AIB certified? Is a food grade bag right for my company? Let's explore each of these questions and determine if a food grade bag is right for your application.
Don't forget to subscribe to our blog updates by filling out the "Subscribe to our blog updates" form to the right.
What is the BRC (British Retail Consortium) and why is it important?
British Retail Consortium Global Standards is a leading safety and quality certification program use by over 23,000 certificated suppliers in 123 different countries. The BRC initially developed its global standard for food safety in order to help the food industry meet legislative requirements of the European Union General Product Safety Directive and the UK Food Safety Act.
BRC certification is important because it guarantees that specific quality, safety, and operation standards are followed and also ensures that manufacturers fulfill their legal obligations and provide protection for their end consumer. BRC Global Standards are now often a fundamental requirement by the world's leading retailers.
What are BRC and AIB certified food grade FIBCs?
BRC and AIB certified food grade FIBCs are bulk bags that are made specifically for contact with food and food related products and manufactured in BRC and AIB certified facilities. BRC and AIB certified bulk bags are manufactured from 100% virgin polypropylene resin, which meets FDA food grade requirements. When necessary, food grade bags can also be supplied with LDPE/LLDPE inner liners approved by the pharmaceutical and food industries.
What does it mean to be BRC or AIB certified?
BRC & AIB Global Standards are now often a fundamental requirement of retailers around the world meaning they won't do business with you unless you adhere to these strict standards at all times. To be a BRC and/or AIB certified facility, they must pass all the BRC and AIB's rigorous tests and inspections and their bags must be produced in a clean room that adheres to the highest of standards including but not limited to:
Proper ventilation

Pest control

Metal detection

Light table inspection

Proper personnel wardrobe

Proper personnel hygiene

HACCP (Hazard Analysis and Critical Control Points) program

Record keeping
It is also important to verify that the manufacturing facility meets the minimum GFSI (Global Food Safety Initiative) standards. The GFSI is a business driven initiative for the continuous improvement of food safety management systems to ensure confidence in the delivery of safe food to consumers worldwide.
Do I need a BRC certified food grade FIBC?
We often hear this question and it entirely depends on what you are packing. If your packaging needs include storing and transporting raw or processed food products, then a food grade bulk bag is most likely a fantastic packaging option for your application.
Our BRC and AIB experts have over 20 years of industry experience and have been trained to understand and work with companies in the Food, Chemical, and Pharmaceutical sectors. They are ready to assist your company in selecting and or constructing the right bag for your application.
To speak with on of our food grade experts, click here and fill out the "Get Quote" form or give us a call at 1-888-237-4224.
Thanks for reading!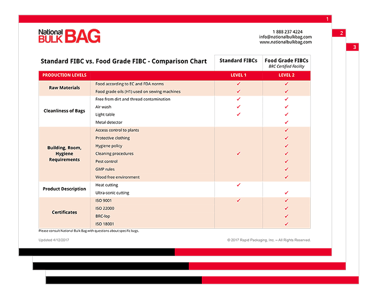 Thanks for reading our quick guide to food grade bags! We hope you found our quick guide useful and informative.
Are you interested in purchasing food grade bulk bags? If so, you'll want to download our free buyer's guide to food grade bulk bags!
This guide will help you make the proper purchasing decision when considering food grade FIBCs. You'll learn about the standards, certifications, and specifications that make food grade bags unique.
Click the button below to download the Buyer's Guide to Food Grade Bulk Bags and learn everything you need to know before purchasing food grade FIBCs!