When determining what FIBC (Flexible Intermediate Bulk Container) is right for you, there is a lot to consider. One of the most important factors that will determine what type of bag is right for your application is what you are packing in the bag. This is particularly important when transporting and/or storing materials that are sensitive to outside contamination and subject to government and/or 3rd party standards. Naturally, the food industry fits perfectly into this category.
Bulk bags are often a good fit for the food industry because of their ability to move a lot of product safely and efficiently on top of adhering to strict standards set forth by organizations such as the BRC (British Retail Consortium), AIB (American Institute of Baking), and the GFSI (Global Food Safety Initiative). Adhering to these organizations' strict standards is imperative. Violating these standards can be costly on numerous fronts.
What is a food grade FIBC? Do I need a food grade bag? What should I be looking for when shopping for food grade bulk bags? Lets examine food grade bags and go over some of the basics. Don't forget to subscribe to our blog by filling out the "subscribe to our blog" form on the right!
What is a food grade FIBC?
The term "food grade" is a generic term. It means different things to different people. The distinction between a standard bulk bag and a food grade bag is in the resin or the way in which the bag is manufactured.
1. Virgin Resin
At the most basic level, food grade can mean that the bags are made with 100% virgin polypropylene resin, which is resin that does not contain recycled materials. Unfortunately, it is quite common for standard bulk bags to be manufactured with resins containing recycled materials. By using 100% virgin polypropylene resin, you can ensure that there are no materials in the resin that may contaminate the product in which you are packing in the bulk bag. Virgin resin also meets the requirements set forth in US FDA Food Contact Regulation 21 CFR 177.1520 for use in contact with food.
2. Third Party Certified Facilities
Many of our food customers have transitioned from virgin resin FIBCs to facilities with third party certification. A third-party certification like BRC ensures and additional level of quality, cleanliness and trust in the product. BRC is recognized by and meets the minimum standards set forth by the GFSI.
The high-level requirements set forth by an agency like BRC ensure that the FIBCs are manufactured in a clean room and have the following measures in place:
Proper ventilation for air quality.

Pest control procedures to prevent all pests from contaminating the FIBCs.

Metal detection to prevent any metals from the manufacturing process from contaminating the FIBCs.

Light table visual inspection for quality assurance.

Vacuum air cleaning for optimal air quality, humidity, and temperature.

Proper personnel wardrobe and hygiene requirements.

A HACCP program – Hazard Analysis and Critical Control Program.

Proper record keeping procedures for quick troubleshooting and diagnostics.
The three other schemes related to packaging that meet the GFSI minimum requirements are:
SQF Ed 7.2

FSSC 22,000 (ISO 22,000 with PAS 223)

IFS Pack Secure
Top 5 things to look for when selecting a food grade FIBC supplier
There are many things to consider when selecting a food grade bag supplier. Here are our top 5 things to look for when researching FIBC providers:
1. Avoid suppliers making false claims such as FDA approved bulk bags.
The FDA does not certify bulk bags OR offer any type of FIBC certification. Any supplier making these claims should be avoided.
2. Make sure the supplier's food grade bulk bags are manufactured with 100% virgin polypropylene resin.
Food grade bulk bags must be manufactured with 100% virgin polypropylene resin. This insures that there are absolutely no recycled materials in the resin that can potentially contaminate the food product that is being transported and/or stored.
3. Supplier offers custom food grade FIBC manufacturing solutions.
Complex businesses require custom solutions and the food industry is no exception. Often times, food companies have very specific transportation and storage needs and custom FIBC solutions are a great fit. When shopping for a food grade bag supplier, make sure that they have the ability to get a custom FIBC solution manufactured for your business in a timely matter.
4. Supplier has experience working with food industry.
The food industry is very complex and your packaging supplier needs to be an asset, not a liability. Be sure to do your due diligence on whether or not the supplier has experience working with companies in the food industry. Don't be afraid to ask for references or ask questions!
5. If you need the highest level of quality control, make sure the supplier's FIBCs are manufactured in a facility with third party certification.
To meet the highest quality standards it is imperative that food grade bulk bags are made in a third party certified facility that meets the minimum GFSI standards. BRC is an example of a certification that meets GFSI standards.
Do you need a food grade FIBC?
This is a question that we hear quite often and really, the answer depends on what you are packing in the bulk bag. Chances are, if you're in an industry that deals with food, food processing, food packaging, or food materials, you most likely require a food grade bag.
To find out if you should be packing your product in food grade bulk bag and speak with one of our FIBC experts, click here to fill out our contact form or give us a call at 1-888-237-4224. Our bulk bag specialists have over 20 years of industry experience and are ready to work with you to create a custom bulk bag solution for your business.
Thanks for reading!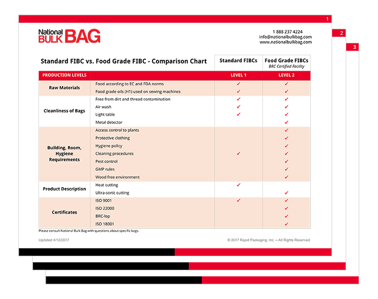 Thanks for reading our quick guide to food grade bags! We hope you found our quick guide useful and informative.
Are you interested in purchasing food grade bulk bags? If so, you'll want to download our free buyer's guide to food grade bulk bags!
This guide will help you make the proper purchasing decision when considering food grade FIBCs. You'll learn about the standards, certifications, and specifications that make food grade bags unique.
Click the button below to download the Buyer's Guide to Food Grade Bulk Bags and learn everything you need to know before purchasing food grade FIBCs!