Today's consumers are more conscious than ever about the quality of the food they eat. To ensure these expectations are met, many in the food supply chain industry require verification from their vendors and suppliers that they are consistently practicing proper food safety and quality measures.
To help meet these demands, the food industry relies on a number of food safety management programs, such as SQF. In this article, we will help you better understand what this is and how the right bulk bags and containers can help you ensure you are meeting these standards.
What is SQF?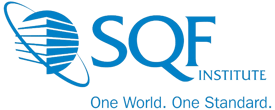 SQF, which stands for Safe Quality Food, is one of the top food safety manage­ment systems recognized by retailers and food-service providers across the globe.
Administered by the Food Marketing Institute (FMI), SQF is the only program headquartered outside of Europe that is recognized by the Global Food Safety Initiative (GFSI). Headquartered in Arlington, VA, SQF offers North American food companies easy access to a GFSI recognized food safety management system.
What also makes SQF unique, according to the Safe Quality Food Institute (SQFI), is that it is the only program to focus on quality in addition to food safety.
How Are SQF Certified Bulk Bags Different?
An important aspect of meeting SQF standards is in the storage and transportation of food; that's where the need for SQF certified bulk bags comes in.
To meet these requirements, any bags used for transporting and storing food grade products must not only be made specifically for contact with food and food-related products, but also manufactured in SQF certified facilities.
SQF certified food grade bulk bags are made from 100% virgin polypropylene resin, which meets Food and Drug Administration (FDA) food grade requirements. When necessary, food grade bags can also be supplied with LDPE/LLDPE inner liners approved by the pharmaceutical and food industries.
Technically speaking, SQF doesn't certify the bags themselves, but rather the facility in which they are made.
To be SQF certified, bulk bags must be manufactured in clean rooms which undergo rigorous inspection to ensure they are meeting standards in areas such as:
Proper ventilation
Pest control
Metal detection
Light table inspection
Proper personnel wardrobe and hygiene
HACCP (Hazard Analysis and Critical Control Points) program
Record keeping
When Do You Need An SQF Bulk Bag?
Anytime your packaging needs include storing and transporting raw or processed food products an SQF certified bulk bag is most likely the right choice.
For food suppliers, it can be a vitally important step in maintaining customers and increasing reach, as many of the large retailers and manufacturers only purchase products with packaging manufactured in SQF certified facilities.
It is important to note that different SQF standards apply to various sectors of the supply chain, i.e., production, manufacturing, distribution, etc.; refer to the SQFI for more information on this.
Thanks for reading!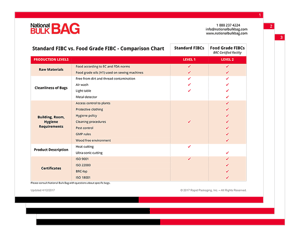 In the today's competitive food marketplace, SQF is becoming increasingly important, and you need the right packaging to ensure compliance.
With over 20 years of food industry experience, National Bulk Bag has the expertise to help you select the right SQF certified bulk bag for your product.
Click the button below to download our Food Grade Bulk Bag Buyer's Guide. By downloading this guide, you will get access to our food grade comparison chart, things you should look for in a bulk bag supplier, and everything else you need to know about purchasing food grade FIBCs.