Today's consumers are more conscious than ever about the quality of food they eat. This is apparent whether you are shopping at your local grocery store or dining at your local farm to fork restaurant. To ensure these expectations are met, many in the food supply chain industry require independent verification from their vendors and suppliers that they are consistently practicing proper food safety and quality measures.
To meet these demands, the food industry relies on several food safety management programs, such as the International Featured Standards Food Standard, also known as IFS Food. In this post, we will help you better understand what the IFS Food Standard is and how the right FIBCs and containers can help ensure you are meeting these standards.
What are International Featured Standards (IFS)?
IFS are uniform standards for food, product and service. They ensure that IFS-certified companies provide a service OR produce a product that adheres with customer requirements while always working towards process improvements. IFS aims to provide transparency for the consumer throughout the entire supply chain, and to reduce costs for both suppliers and retailers.
A few fun facts about IFS:
There are 8 IFS standards
They issue 16,800 certifications per year
They have 1,150 auditors
There are IFS certified facilities located in 90 countries on 4 continents
What are the IFS Food Standards?
The IFS Food Standards are a Global Food Safety Initiative recognized standard for auditing food manufacturers. The focus is on food safety and the quality of processes and products. The Food Standard applies when products are "processed" or when there is a hazard for product contamination during primary packing. IFS Food is important for all food manufactures, especially for manufacturers that produce private labels as it contains many requirements related to the compliance with customer requirements.
The objectives of IFS Food are to:
Establish a common standard with a uniform evaluation system
Work with accredited certification bodies and qualified auditors approved for IFS Food
Ensure comparability and transparency throughout the entire supply chain
Reduce costs and time for both manufacturers and retailers
There is also a subset of standards for food packaging that can be found by clicking here. IFS Food Packaging Guidelines provide help and support for implementing the requirements of IFS Food product packaging. The IFS Food Packaging guideline was created primarily for manufacturers of food packaging. The purpose of the food packaging guideline is to increase the safety of product packaging.
IFS Food Certification offers companies a path to excellence in quality, food safety, customer satisfaction, as well as a competitive advantage in their market price. IFS Food Certification benefits include:
Improving understanding between management and staff relating to good practices, standards and procedures.
Monitoring of compliance with food regulations
More effective use of resources
Reduction in the need for customer audits
Independent third-party audits
Higher flexibility through individual implementation due to a risk-based approach.
Why are IFS Food Certified Bulk Bags Important to Food Grade Bulk Bag Buyer's?
Technically speaking, IFS doesn't certify the bags themselves but rather the facilities in which they are made. To meet strict requirements set forth by IFS and other GFSI recognized accreditations, any bags used for transporting and storing food grade products must not only be made specifically for contact with food and food-related products, but also manufactured in IFS certified facilities.
Food grade bulk bags manufactured in IFS certified facilities are made from 100% virgin polypropylene resin which meets the Food and Drug Administration's (FDA) food grade requirements. When necessary, food grade bags can be supplied with LDPE/LLDPE inner liners approved by both the pharmaceutical and food grade industries.
To be a certified IFS facility, bags must be manufactured in clean rooms which undergo rigorous inspection to ensure they are meeting standards in areas such as:
Proper ventilation
Pest control
Metal detection
Light table inspection
Propper personnel wardrobe and hygiene
HACCP (Hazard Analysis and Critical Control Points) program
Record keeping
When Do You Need an FIBC from an IFS Certified Facility?
Anytime your packaging needs include storing and transporting raw or processed food products, an FIBC manufactured in certified IFS facilities is most likely the right choice. For food suppliers, it can be a very important step in maintaining customers and increase reach. Many of the large retailers and manufacturers only purchase products with packaging manufactured in IFS certified facilities.
It is important to note that different IFS standards apply to various sectors of the supply chain, I.e., production, manufacturing, distribution, etc.
Thanks for Reading!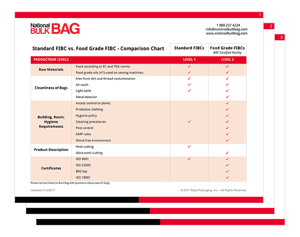 In today's competitive food marketplace, IFS and other GFSI recognized accreditations are increasingly important and you need the right packing to ensure compliance.
With over 20 years of food industry experience, National Bulk Bag has the expertise to help you select the right food grade certified FIBC for your product.
Click the button below to download our Food Grade Bulk Bag Buyer's Guide. By downloading this guide, you will get access to our food grade comparison chart, things you should look for in a food grade supplier, and everything else you need to know about purchasing food grade FIBCs.