FIBCs are commonly used throughout the agricultural industry for packaging, storing and transporting produce. While FIBCs are a great solution for these applications, there may be another option that many agriculture operations overlook – woven polypropylene, or WPP, bags.
What are WPP bags? Why should produce operations consider their use over FIBCs? Let's explore.
WPP Bags - The Basics
Unsurprisingly, woven polypropylene bags are constructed of woven strands of woven polypropylene fibers. After construction, WPP bags can be laminated with an additional polypropylene coating or a plastic liner to provide protection against moisture or leaks. They are also available without a liner for applications where moisture is not a concern.
WPP bags are available in several styles, with the most common being flat-form, tucked bottom, and gusseted bags. Each provides its own benefits in various applications.
The advantages of WPP bags in produce packaging applications
While there are many viable options for use in produce packaging applications, WPP bags offer several attractive benefits that make they a great choice, including:
High strength: Their woven nature makes WPP bags very durable and resistant to tears bursting, or punctures. This helps to ensure their repeat use and the protection of produce stored inside.
Lightweight: WPP material is light weight and breathable. This makes WPP bags a great choice for high-volume applications.
Flexibility: From small produce packaging for store shelves to storage and transporting, WPP bags are flexible enough to tackle any application.
Customizations: WPP bags are available in a wide range of options and can be screen printed or customized to meet your exact needs.
These benefits make WPP bags an attractive alternative to FIBCs for many produce applications.
Are WPP Bags Right for Your Application
When choosing the right bag for your produce application, there are a number of factors you should consider, including:
Size:

WPPs are often smaller than FIBCs so storage volume needs to be considered. If you are looking to store large volumes of produce, WPP bags may not be ideal.

Breathability requirements:

Some applications require produce to breath. If your application requires exposure to air to keep produce fresh, WPP bags may be the way to go.

Transportation and storage:

WPPs are smaller and take up less storage space so they can be transported in smaller vehicles. They are not as protective as FIBCs in large transport trucks, though.
National Bulk Bag Can Help
Identifying the right bag for your specific application isn't always easy. Our experts are here to help. We provide comprehensive application reviews that are designed to help you understand your bulk bag storage options and source the best solution for your job. Contact us to schedule an application review or download our catalog to view our full range of bulk bags.
---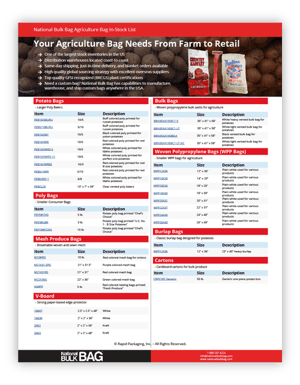 Your Agriculture Bag Needs From Farm to Retail
We stock one of the largest inventories of agricultural produce bags in the United States. Whether you are packing potatoes, oranges, seed, onions, , firewood or any other produce, we stock or can manufacture a bag to meet your requirements.
We are the produce bag experts and are ready to provide you with:
One of the largest stock inventories in the U.S.

Same-day shipping, and just-in-time delivery.

Custom bag solutions.

Manufacturing, warehouse solutions, and distribution located coast to coast.
To gain access to our comprehensive Agricultural Produce Bags In-Stock List click the button below!