In April 2021, the U.S. Department of Agriculture announced a massive $330 million agricultural grant designed to help agricultural producers and supply chain organizations recover from the pandemic. The funds are part of the USDA's Pandemic Assistance for Producers program that launched in March. Far from being a simple aid package, the grant has far reaching goals – and potential impact. Understanding these goals and their potential impact on the agricultural industry, as well as our own industry, is important to the grant's long-term success and your own future operational planning.
Let's explore the grant in detail.
The Purpose of the Grant
The $330 million grant includes funds intended for a number of purposes, including:
Pandemic relief:

The most recently announced grant includes funding for relief for agricultural producers, farmers and supply chain organizations that the COVID-19 pandemic has negatively impacted.

However, pandemic relief is a relatively minor part of this specific grant – more than $6.5 billion in pandemic relief funding have already been announced.
Specialty crop development: The bulk of this grant is earmarked for a newly announced specialty crop initiative, the Specialty Crop Block Grant Program (SCBGP). The program is designed to help create new markets for the expanding specialty crop food sector and new market opportunities for U.S. food and agricultural products. Just under $170 million of the $330 million grant is dedicated to the SCBGP.
Fruit and vegetable subsidies: Another significant portion of the grant, about $75 million, is dedicated to incentivizing the purchase of fruits and vegetables for low-income consumers. These subsidies will lower the costs of fruits and vegetables. The USDA is encouraging smaller farms and ranches and newly established farms and ranches, socially disadvantaged producers, veteran producers, and producers in underserved communities to apply for funds.
The Grant's Potential Impact on Your Business
Even if you are not an agricultural producer, the grant may potentially impact your business.
The first potential impact is focused on food prices and availability. The grant, combined with other ongoing USDA and federal programs, should help farmers and agricultural producers ramp up operations negatively impacted by the pandemic. The additional crops produced as a result of this increase in operations should positively impact food process and availability throughout the U.S.
In addition to reducing prices, the increase in crop production will likely lead to a proportionate increase in demand for food packaging and agricultural bag products. This increased demand will have some far-reaching ramifications as the packaging industry attempts to normalize its own operations and reduce currently lengthy lead times on packaging order fulfillment.
Understanding the potential impact on the already stressed packaging and bulk bag supply chain – and taking steps to minimize the actual impact on your own operations – will be critical in the coming months.
Proactively predicting your own packaging and agricultural bag supply needs is important. Placing orders well in advance of actual need will help to minimize what will likely be longer lead-times for agricultural bags and other associated packaging materials.
Talk to your Distributor to Learn More
In short, the grant offers many positive benefits to a crucial industry, with some potential short-term negative impact as a result.
Predicting the grant's actual impact on your business can be difficult. However, speaking to your distributor can help shed light on the potential impact and benefits the grant may have. Our experts are always happy to discuss these matters and offer their informed insight on their impact and the steps you should take to prepare for the future, specifically in terms of agricultural bag and packaging material orders.
Contact us to speak to an expert today.
---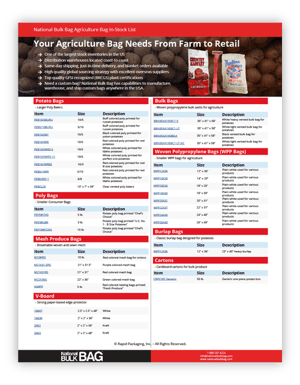 Your Agriculture Bag Needs From Farm to Retail
We stock one of the largest inventories of agricultural produce bags in the United States. Whether you are packing potatoes, oranges, seed, onions, , firewood or any other produce, we stock or can manufacture a bag to meet your requirements.
We are the produce bag experts and are ready to provide you with:
One of the largest stock inventories in the U.S.

Same-day shipping, and just-in-time delivery.

Custom bag solutions.

Manufacturing, warehouse solutions, and distribution located coast to coast.
To gain access to our comprehensive Agricultural Produce Bags In-Stock List click the button below!