2020 was a historically poor year for the potato industry. Record low yields and reduced global production resulted in a significant decrease in the availability of potatoes – the global cold storage stock of potatoes fell from around 1.12 billion pounds to 1.06 pounds.
While this may seem like a minor issue, the poor yield has resulted in unique market conditions and opportunity for potato producers. Let's explore the current market and how it may impact the bulk bag industry.
Factors Impacting the Current Potato Market
Several factors played a role in the historically low potato yield in 2020, including:
Lasting drought:

Record low rainfall in the key potato-producing areas of the United States and other countries dramatically impacted crop growth and overall yield.

Reduced demand:

It may be surprising, but the pandemic led to a significant reduction in potato demand. Restaurants and fast-food chains were forced to close their doors during lockdown, which led to a dramatic reduction in demand for potatoes. When you consider the number of french fries sold on any given day in a fast-food restaurant, the reduced demand makes sense.

Limited planting:

Reduced demand in early 2020 led many farmers to limit the acreage of potatoes planted throughout the year. Of course, fewer crops planted leads to fewer crops harvested.
In all, these factors led to one of the lowest potato yields in recent memory.
Beneficial Market Conditions for Potato Producers
The low yield in 2020 and early 2021 has driven potato prices up in many markets across the globe. Combine the increased prices with returning demand as restaurants reopen, and you have significantly improved market for producers.
Producers are already acting on this current market opportunity – acreage devoted to potato crops has risen to pre-pandemic levels, with 16 percent more acreage planted than in 2020. Idaho and Maine, two of the country's largest producers of potatoes, have seen a significant increase in planting and will likely see a rebound in potato-related jobs.
Considering the Impact on the FIBC Industry
The advantageous market conditions will likely lead many farmers and potato producers to ramp up planting operations. This will lead to larger harvests, in turn leading to a need for additional packaging and transportation solutions – like FIBCs.
The increase in demand may tax an already fragile supply chain, which can potentially impact lead times and stock availability. In all reality, with the current state of the supply chain, any change in demand will likely have a far-reaching impact throughout the bulk bag industry.
Whether you are a potato producer or operate outside the agriculture industry entirely, it is important to consider the impact increased demand will have on your FIBC and WPP bag requirements. Our experts can help you review your current and future FIBC needs and develop a plan for mitigating the impact long lead times have on your business.
Contact us to begin planning for your bulk bags needs today.
---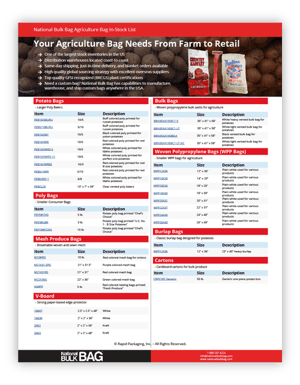 Your Agriculture Bag Needs From Farm to Retail
We stock one of the largest inventories of agricultural produce bags in the United States. Whether you are packing potatoes, oranges, seed, onions, , firewood or any other produce, we stock or can manufacture a bag to meet your requirements.
We are the produce bag experts and are ready to provide you with:
One of the largest stock inventories in the U.S.

Same-day shipping, and just-in-time delivery.

Custom bag solutions.

Manufacturing, warehouse solutions, and distribution located coast to coast.
To gain access to our comprehensive Agricultural Produce Bags In-Stock List click the button below!