For decades, the agricultural space has made use of baler bags for a wide range of applications. Over the years, baler bags have undergone significant transformation in order to meet the changing needs of those agricultural users. Baler bags are no longer the simple cloth bags they started as. Instead, baler bags are available in many different materials, with many different types of construction.
What kind of baler bags are available on the market today? What are the different uses for each type? Let's explore the different types of baler bags and what they are used for.
What Are Baler Bags?
Baler bags are large sacks designed to hold a number of smaller bags filled with products, such as seeds or produce. Essentially, they are large bags designed to store and transport multiple smaller bags.
In agriculture, baler bags are most commonly used to hold smaller consumer/retail ready bags of potatoes, onions, etc. Baler bags are also used for storage and transportation by agricultural processing facilities.
What Types of Baler Bags are Available Today?
Baler bags have evolved well beyond their humble cloth beginnings. Modern fabrics and construction have led to the emergence of two main types of new and modern bags.
Paper Baler Bags
Constructed of thick stock, paper baler bags come in 50lb capacities and are usually filled with smaller retail-ready mesh or poly 5-10lb poly bags. Paper bags are visibly marked with check boxes to identify the quantity and weight of the smaller products bags they contain.
These types of baler bags can be customized with full color printing to allow agricultural businesses to add their own logos. They can also be printed with a variety of sizes usually in increments of 50lbs. For example, 5/10 meaning 5 bags of 10lbs each contained in the baler, 16/3, etc. They can be customized. to include a mesh window as well.
Paper baler bags are commonly used in retail and processing operations. In some applications, paper windowed bags are actually referred to as baler bags, and the actual baler bags they go into are referred to as "master balers" - which can be confusing if you're not familiar with the terminology.
Poly Baler Bags
Poly baler bags are quite similar in construction to paper bags but are constructed of polyethylene. Poly bags are often stronger and more durable than their paper counterparts and are designed with holes to allow products contained inside to breathe.
baPoly bags can also be custom printed and are retail ready, making them a viable choice for a wide range of agricultural applications.
How Do You Choose the Right Baler Bag?
Choosing the right baler bag for your unique application can be difficult. With so many different things to consider, it can be helpful to have the advice of an expert. At National Bulk Bag, we are here to provide answers to your baler bag questions.
Remember, lead times are extended right now. Talk to our team about planning for the future and the 2022 harvest season.
For more information, download our Produce Packaging In-Stock List.
---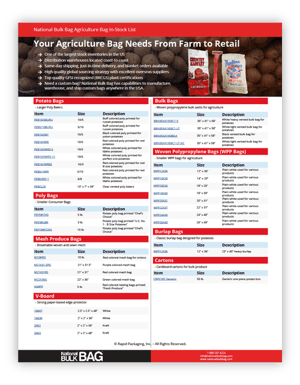 Your Agriculture Bag Needs From Farm to Retail
We stock one of the largest inventories of agricultural produce bags in the United States. Whether you are packing potatoes, oranges, seed, onions, , firewood or any other produce, we stock or can manufacture a bag to meet your requirements.
We are the produce bag experts and are ready to provide you with:
One of the largest stock inventories in the U.S.

Same-day shipping, and just-in-time delivery.

Custom bag solutions.

Manufacturing, warehouse solutions, and distribution located coast to coast.
To gain access to our comprehensive Agricultural Produce Bags In-Stock List click the button below!