As we have expanded our product offering at National Bulk Bag into the agriculture industry, we've greatly expanded on the types of topics covered in this blog. A big part of that has been the packaging and/or storage materials that we carry. Almost all products that we sell at NBB are used in bulk transportation and/or storage – that's simply a fact.
We feel it's our job and mission to inform our site visitors and potential customers of the different products available and how they could impact their operations. That's especially true when it comes to safely and securely transporting your product. Vboard, or corner board a product that is particularly impactful product when it comes to shipping. But what is vboard? What is it used for? Let's explore.
What is Vboard?
Vboard, commonly referred to as corner board, is a tough, paper-based edge protector designed to give additional strength and wear protection to the edges of bulk packaging and pallets. It's most used as reinforcements on palletized freight and mostly used as protective packaging. They are particularly useful for protection during transportation and shipping as they provide additional structure to pallets when they are secured.
Product Options and Advantages?
Vboard can be customized in several ways to make it ideal for any product and/or application. It can be purchased in various thicknesses and lengths to match any custom bulk packaging that you may be using. It is also offered in various colors if that is required by your application.
One of the more common applications of vboard is its use to stabilize roll stock. If you're using stretch to palletize your product before shipping, vboard is often added to the corners of the palletized product to alleviate pressure from the stretch on the product and stabilize the entire pallet.
Talk to Your Distributor
If you currently palletize your product before shipping and/or transportation, then vboard may be a great fit for your organization. Talk to us today if you're interested in vboard and we'll find the right fit for your product and/or application.
---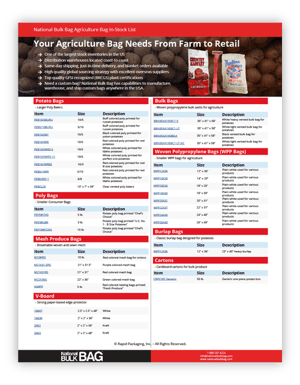 Your Agriculture Bag Needs From Farm to Retail
We stock one of the largest inventories of agricultural produce bags in the United States. Whether you are packing potatoes, oranges, seed, onions, , firewood or any other produce, we stock or can manufacture a bag to meet your requirements.
We are the produce bag experts and are ready to provide you with:
One of the largest stock inventories in the U.S.

Same-day shipping, and just-in-time delivery.

Custom bag solutions.

Manufacturing, warehouse solutions, and distribution located coast to coast.
To gain access to our comprehensive Agricultural Produce Bags In-Stock List click the button below!