The rising popularity of facilities automation has led to increased efficiency and safety in manufacturing facilities across the globe. To support facilities automation efforts, many businesses have begun to source packaging that offer useful features and technology that help eliminate slowdowns or bottlenecks during the manufacturing or storage process.
One type of bag that has seen a significant increase in popularity is the wicketed bag. Due to their flexibility – and the benefits the provide over other types of poly bags – wicketed bags have become the preferred option for many businesses focused on facilities automation.
What are wicketed bags, and how are they different from flat packed bags? Let's explore the basics and benefits.
What are Wicketed Bags?
Wicketed bags are constructed of multiple plastic bags stacked and arranged on a wire wicket. The bags are held in place on the wire wicket using rubber washers. The wire wicket generally has a 1.5" lip with notches to allow for flexible use.
Wicketed bags are available in several configurations, widths and lengths. They can be customized with bottom gussets, vents, perforations, custom decals and more. They can also be ordered in resealable or permanently sealed versions.
Wicketed bags are offered for both food safe and non-food safe operations.
Advantages of Wicket Bags
Wicketed bags a few key benefits over their flat packed counterparts. These benefits include:
Easy integration into automation systems: The main benefit of wicketed bags is their ability to integrate into automated systems. Many industrial packaging lines are equipped with workstations that are specially designed to hold the wicket of these bags. This allows the packaging operator to easily add empty bags and remove a bag from the wicket after it is filled, without creating a slowdown in the system.
Hands-free filling: Unlike flat packed bags, which must be held manually during the filling process, wicketed bags are simply placed on the wicket holder for hands-free filling. In short, wicketed bags eliminate hand filling to enable faster processing times. Hands-free filling also helps to keep the operator safe and allows the operator to attend to other duties during the filling process.
Explore the Impact of Wicketed Bags on Your Operations
If you are interested in optimizing your operations through facilities automation, it is important to remember the impact packaging can have on your efforts. Our experts are here to help you review your facilities automation goals and provide advice on the best type of bags for your specific needs – wicketed, flat packed, or other.
Contact us today to learn more about wicketed bags and the benefits they may offer your operations.
---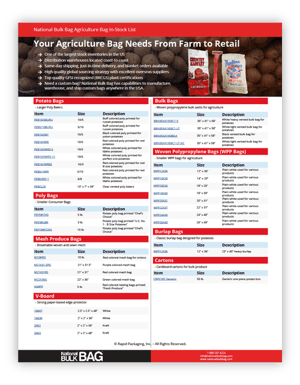 Your Agriculture Bag Needs From Farm to Retail
We stock one of the largest inventories of agricultural produce bags in the United States. Whether you are packing potatoes, oranges, seed, onions, , firewood or any other produce, we stock or can manufacture a bag to meet your requirements.
We are the produce bag experts and are ready to provide you with:
One of the largest stock inventories in the U.S.

Same-day shipping, and just-in-time delivery.

Custom bag solutions.

Manufacturing, warehouse solutions, and distribution located coast to coast.
To gain access to our comprehensive Agricultural Produce Bags In-Stock List click the button below!