When it comes to packaging produce, there are many different types of packaging options to choose from. You need to find the right packaging that will protect your food products while also promoting your brand. In this blog post, we will discuss the different types of produce packaging and how to choose the right one for your business. We'll also provide some tips on how to create custom produce bags that will stand out from the competition!
Your Produce Packaging Bag Options.
Mesh produce bags
Mesh produce bags are a type of produce packaging that is made of a thin, net-like fabric. They are most often used for storing fruits and vegetables, and work well for items that need airflow, such as berries, leafy greens, and mushrooms. Mesh produce bags are also see-through, which makes it easy to identify the produce inside.
Paper produce bags
Paper produce bags are a typically used for potatoes. They are often made from recycled paper and are biodegradable, making them a more environmentally friendly option than other types of produce packaging. Paper produce bags come in a variety of sizes and styles, making them a versatile choice for storing a variety of produce products. They are also affordable and easy to find, making them a popular choice for produce retailers and consumers alike.
Paper produce bags are best suited for storing produce that does not require refrigeration. This includes fruits like apples and oranges, as well as vegetables like carrots and potatoes.
Poly produce bags
Poly produce bags are the most common type of produce bag. These bags are made of lightweight plastic film and are used to store vegetables, fruits, and other produce. Poly produce bags are often see as a more economical option that paper produce bags. They can also be reused multiple times.
The main downside to poly produce bags is that they are not as environmentally-friendly as paper produce bags. Additionally, these bags can only be used to store certain types of produce. Vegetables and fruits that have a high water content, such as lettuce and strawberries, are best stored in plastic produce bags. Solid produce items, such as avocados and potatoes, are not recommended to store in plastic produce bags.
Netting Bags
Netting bags are made out of a plastic netting material that is often sealed with a pre-installed paper seal. Netting bags form fit around produce and agricultural products, allowing them superior air flow and breathability. Most netting bags are rated at 10lbs and some common products you'll see these used for are fruits, onions, and shellfish (among others).
Customize Your Produce Packaging!
All produce packaging can be customized to fit the specific needs of your business. This is an important feature because it allows you to create bags with a unique product packaging design that will stand out from the competition. Additionally, custom produce bags can be designed to promote your brand and increase awareness for your company.
Thanks for Reading!
Picking produce bags that are right for your business can seem like a daunting task. We hope this blog post was helpful in guiding you through the process of selecting produce packaging and helped answer any questions you may have had on the topic. If you want to learn more about produce bags or how to create custom produce bags, feel free to reach out and talk to a produce packaging specialist today.
---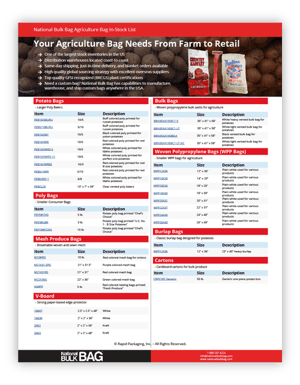 Your Agriculture Bag Needs From Farm to Retail
We stock one of the largest inventories of agricultural produce bags in the United States. Whether you are packing potatoes, oranges, seed, onions, , firewood or any other produce, we stock or can manufacture a bag to meet your requirements.
We are the produce bag experts and are ready to provide you with:
One of the largest stock inventories in the U.S.

Same-day shipping, and just-in-time delivery.

Custom bag solutions.

Manufacturing, warehouse solutions, and distribution located coast to coast.
To gain access to our comprehensive Agricultural Produce Bags In-Stock List click the button below!