We've covered FIBC construction extensively on this blog in the past, however, it's been a while since we've specifically covered the types of construction as it relates to the way bulk bags are put together. This includes the seams, panels, and how they are sewn together.
FIBC construction can impact the products and applications a bag is good for and that can have an impact on a facility's use. But what are the different construction types? Do certain construction types have advantages in certain applications? Let's explore.
4-Panel Jumbo Bag Construction
Believe it or not – not all bulk bags are constructed using the same techniques. There are actually three different types of bag construction that are common in the industry: U-panel, circular, and 4-panel.
U-Panel
U-panel bags are constructed with 3 body panels (often referred to as U+2 to reflect the single piece of material sewn together with the 2 side panels). One runs the full length of the bag forming the two sides and two additional pieces form the other two sides.
Circular
Circular bags are constructed with one "tubular" pieces of fabric that forms all sides off the bag allowing for the stitching only at the top and bottom of the bag where the top and bottom are attached. Although called circular bags, they still resemble your standard FIBC and hold a squarer shape.
4-Panel
4-panel bags are constructed with four individual pieces of fabric sewn together to form a square structure. They aren't a very common construction type these days but can still be found and purchased from some suppliers. They hold their square shape better than other types of constructions due to the way they're put together which does offer some advantages in certain applications.
For more information on the specific types of construction check out this post: Types of Jumbo Bag Construction.
Construction Type and Application
Depending on your product and/or application, the different types of construction can have certain advantages.
Shape and Hold
4-panel bags will hold their square shape the best, followed by U-panel, then circular in terms of ranking them. This can impact stacking and storage as bags that hold their square shape tend to stack and store more effectively. This can also be important for truck-based transportation when tight stacking is required for truck beds.
Strength and SWL
When it comes to SWL or safe working load – U-panel bags tend to have the best ratings. That means that they are rated the best in terms of weight they can safely carry (for more info on safe working load, check out this post: https://blog.nationalbulkbag.com/fibc-bulk-bag-safety/how-to-weigh-industrial-fibc-bulk-bags-safe-working-load). However, other bag constructions can still have higher SWLs as SWL often takes into consideration GSM fabric, lift loop design, and sewing patterns.
Talk to Your Distributor
It's also important to note that some manufacturing plants don't have the ability to produce certain construction types. This is because of the size of the looms used to weave the bag – making circular construction of larger bags impossible. However, at National Bulk Bag, we have the ability to source any construction type due to our relationships with various manufacturers – so talk to us if you have a specific need.
Finding the right construction type for your product and/or application is important to keeping your facility and employees safe while also getting a bag that is not only cost effective but fits your needs.
---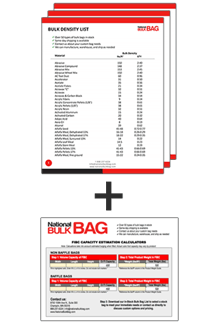 Thanks for reading!
Thanks for reading about the most common types of flexible intermediate bulk container lift loops!
Safety and reliability are our top priorities. Each bag that we sell has a safe working load (SWL). To make sure the product you're packing will not exceed the SWL of the bag you're interested in, you'll need to know the bulk density of the product you're packing as well as the cubic foot capacity of the bag.
Click the button below to download our Product Weight Guide and FIBC Volume Calculator to help you determine how much weight a specific bag will hold.