At National Bulk Bag, we pride ourselves in noticing trends in the industry. We also take pride in making sure we take notes on these trends and talk about them with our current and potential customers. That brings us to the latest trend we are seeing: the growing use of bulk bags in the hemp and cannabis industries. Let's discuss.
Increased Industry Demand
The landscape around cannabis in the United States (and North America for that matter) has significantly changed over the last decade. State by state the laws, rules, and regulations around the growing, processing, sale and distribution of cannabis and hemp products have been relaxed with 9 states legalizing full recreational use of cannabis and over 30 other states legalizing cannabis for medical use. It appears to be just the beginning in terms of legal changes surrounding industrial hemp and cannabis with several states moving towards some sort of legalization on a yearly basis.
With this massive change in the legal landscape surrounding industrial hemp and cannabis, it has become an incredible opportunity for the industries that support cannabis companies and their growth (no pun intended!). The massive uptick in these industries has also created incredible demand for reliable, low-cost bulk containers for the transportation and storage of cannabis and hemp products like flexible intermediate bulk containers.
A Perfect Fit
There are myriad reasons why bulk bags would be such a great fit for the industrial hemp and cannabis industry so let's examine a few of them.
First, FIBCs are low-cost, reliable, and flexible bulk storage containers. The fact that these bags are not only safe for transporting massive quantities of cannabis and hemp products but can also be used to store those same quantities gives them a leg up on similar products like gaylord boxes.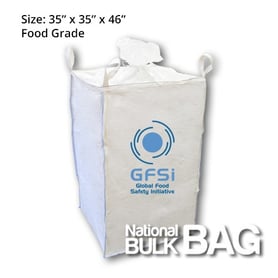 Second, certain FIBCs are specifically designed and manufactured to meet standards that may be very useful in the cannabis and hemp industries when consumable products are involved (for example, medical cannabis, edible cannabis products, etc.). Specifically, food grade and pharmaceutical grade bags. These bags are manufactured to certain specifications in facilities that are certified by organizations like BRC and IFS – making them viable for use with consumable products. They are especially relevant when contamination is unacceptable (click on these links for more information on food grade and pharmaceutical grade bags).
If your product and application does not involve consumable products (for example, raw materials before processing and most industrial hemp products), then a standard (not food grade) bag is a great fit and will save you money in terms of cost per bag.
Last but not least, FIBCs offer versatility both inside and outside of facilities that is simply unmatched. Due to the numerous combinations of top designs, bottom designs, lift loops, liners, seams, shapes, etc. (check out this page to learn more about the different constructions) – bags can be custom tailored to almost any product or application and almost any facility. Functions like easy forklift use all the way to proper stacking can easily be built into a bags' design. That kind of versatility simply isn't found in other like products.
Finding the Right Bag for the Industrial Hemp and

Cannabis

Industry
No matter what your product or application, finding the right bag is extremely important. Make sure you contact a supplier that can help you find the perfect bag for your company.
---

Our most popular bag for the industrial hemp and/or cannabis industries is our 37x37x63 duffle top, spout bottom flexible intermediate bulk container.
Our full product description and spec sheets for this bag can be found by clicking here.
---
Everything You Need to Know about Using FIBCs with Hemp.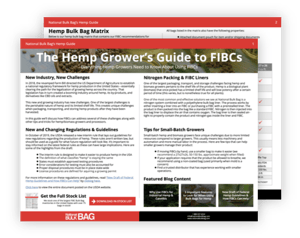 The booming hemp industry is creating unique challenges for growers and processors alike. With the lack of reliable education on the internet, the hemp industry is commonly asking questions like how do I properly store my hemp and biomass? How can I extend my product's shelf-life? How can I reduce the risk of mold and contamination? Is there an easier way to empty my bulk bags?
In our new Hemp Grower's Guide to FIBCS, we discuss how FIBCs can help address the various challenges hemp growers face.