At National Bulk Bag we take safety very seriously. It is a part of everything we do within our own facilities and we know how much safety means to our customers. Part of our on-going commitment to safety is a dedication to keeping up on the latest and greatest trends in the industry and subsequently discussing these trends on our blog.
Our friends over at FIBCA have recently released a new video (embedded below) highlighting what they call the "7 critical points for filling and emptying a bulk bag." Let's check these out and discuss how these 7 critical points can help make you and your facility safer.
The 7 "Critical Points"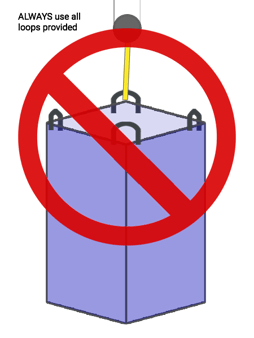 Without further ado, let's get to the 7 critical points as defined by FIBCA. Note that at the end of this post we've included some additional safety points that we at NBB feel compliment these well.
1) Always Use Every Loop
Lift loops are essential to FIBC construction and are specifically designed to be used in tandem with each other to lift the full rated weight of a loaded bag. NEVER use less than ALL of the provided loops to lift the bag. Doing so can significantly increase the chance of a loop tearing and the bag dropping from the lifted height.
2) Never Gather Loops
NEVER gather loops to be lifted with a single hook unless that bag is specifically designed to be lifted that way. Using loops in anyway other than the prescribed method provided by your distributor is extremely dangerous.
3) Keep Loops Vertical
Lift loops are designed to be lifted vertically, not horizontally (or side-to-side). Lifting bags laterally can damage the bag and cause it to become unstable thus endangering those around the lifted bag.
4) Keep Clear of Suspended FIBCs
This seems like a no-brainer, but it needs to be said. NEVER under any circumstances stand underneath a suspended FIBC. In fact, never stand close to the area under a suspended bag. Severe injury and death can occur if a bag becomes dislodged from the device suspending it.
5) Never Exceed the Safe Working Load (SWL) or Rated Capacity
Every bag that is purchased comes with a SWL or safe working load. This is not to be exceeded under ANY circumstances. Exceeding the SWL significantly increases the chance of bag failure that can lead to serious injury or death.
6) Fill the Bag Evenly and Keep it Stable
Fill, store, and empty the bags in stable manner. Make sure to fill the bag evenly to prevent instability. Not doing so can cause the bag to topple during filling and discharging resulting in a dangerous situation for you and/or your employees.
7) Close the Bag as Instructed
Closing the bag properly is key to the bag performing safely. If a bag is not closed it can leak product during storage and transportation. If the material(s) being transported/stored are hazardous in anyway, this can create a dangerous situation for those near the bag.
Additional Safety Tips for Filling
After examining this list, we at NBB believe there are 3 more "critical points" that should be added to this list:
1) Always Fill in an Appropriate Environment
Ensure the bag is always in an environment that is safe and appropriate for filling and/or discharging. This is especially relevant when handling flammable or explosive materials as static electricity can build up in the bag. The discharging of this electricity can cause serious injury or death (for more information about the dangers of electrostatic charge and FIBCs click here) to those in the area. For these situations, Type C and Type D bulk bags are highly recommended.
2) Always Make Sure the Bag Bottom is Secure before Filling
ALWAYS verify that the bottom discharge spout (if applicable) is closed securely and properly before filling the bag. Your supplier or manufacturer should have provided instructions for proper closing so make sure to consult those instructions before using the bag.
3) Make Sure Your Handling Equipment is Adequate
If you're using equipment (like forklifts) to move filled bags throughout your facility, make sure that equipment is rated to handle the rated weight of a filled bag. Most equipment also has safety latches that NEED to be used at ALL TIMES.
FIBC Safe Handling Guidelines – Filling and Emptying (embedded video)
Below is the FIBCA video embedded for convenient viewing. Thanks for reading!
---
Thanks for reading!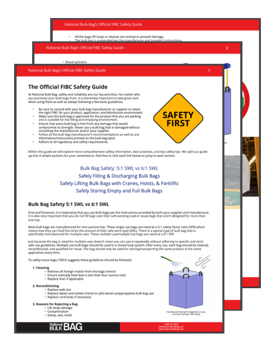 At National Bulk Bag, safety and reliability are our top priorities. No matter who you purchase your bags from, it's extremely important to take great care when using them. Within this guide we explore comprehensive safety information, best practices, and key safety tips.
Our safety guide is split up into four sections for your convenience:
Bag safety: 5:1 SWL vs. 6:1 SWL
Safely filling & discharging FIBCs
Safely lifting FIBCs with cranes, hoists, & forklifts
Safely storing empty and full FIBCs
Download our Official Safety Guide by clicking the button below!