It's no secret that 2020 was nothing short of crazy. The COVID-19 pandemic quickly spread across the globe, impacting the lives of almost everyone in the world. Countless industries and businesses faced unforeseen and nearly insurmountable challenges to their daily operations, staff and supply chain. The manufacturing industry was hit particularly hard by the pandemic – material sourcing challenges led to increased lead times, cost increases and other frustrations for organizations focused on the creation of products and goods. As such, many within the manufacturing industry have dubbed 2020 the "Year of Extended Lead Times."
The COVID-19 pandemic had immediate, lasting and widespread impact on nearly every country in the world. Mandatory shutdowns of entire countries led to a loss of productivity in every industry, which has had a domino effect across the global supply chain.
Even now, businesses are in catch up mode as they try to recover from weeks and months of being unable to produce and ship their offerings. These supply chain issues have impacted nearly every type of business, including leading technology vendors, lumber mills, food and beverage companies and so many more.
The bulk bag industry is no exception. Let's explore the effect COVID has had on the industry and the steps you can take to reduce the impact on your own business operations.
Shutdowns Resulted in Widespread Supply Chain Issues
Many bulk bag manufacturers are located oversea, in countries like India and China, where shutdowns early in the pandemic throttled supplies. Most overseas manufacturers continue to struggle to keep pace with demand. Limited access to raw materials, like resin and polypropylene, have made it difficult to produce the volume of bags needed to fulfill the demand.
Adding to the delays are the logistical challenges of shipping bags orders across the globe. Due to global supply issues, it's not uncommon for it to take several months for them to reach the US. Then they must travel by rail, be transferred to a truck, and then arrive at a distributor. It can then take another 5-7 days to reach their destination.
Domestic manufacturers face similar challenges in meeting the demand of their customers. While domestic manufacturers don't have to contend with the lengthy shipping times, they do continue to struggle with efficient production. State shutdowns and a reduction in shifts or staff have slowed production of bulk bags. There is also the issue of cost, domestically produced FIBCs often cost 2-3 times more than those sourced and manufactured overseas (for more info on overseas vs domestic production, click here).
Predicting Current Lead Times
Material shortages and production challenges are impacting nearly every type of container across our industry. At the time of this writing – based on what we have learned from our customers and peers – we are predicting the following lead times:
FIBCs: Most FIBC orders are taking up to 90 days for fulfillment. Mind you, we aren't even talking about custom bag orders, but typical stock bags are in shortage and high demand. In some cases, we've seen lead times up to 4 and 5 months for standard orders – not just custom bag orders.
Poly bags: A recent surge in demand for poly bags has led to even longer lead times. Most poly bag orders will take a minimum of 14 weeks to be fulfilled.
Cartons: Most of our contacts within the industry have noted longer than usual lead times for cartons. In many cases, carton orders are taking a minimum of three to four weeks for fulfillment.
Overcoming Bulk Bag Supply Shortages
The future remains uncertain and a return to regular supply chain operations is difficult to predict. However, there are steps you can take to mitigate the impact the shortage of bags can have on your business.
After carefully considering the current bulk bag shortage, our team of experts offers the following advice to help you limit the frustration stemming from long lead times.
Find a supplier with warehousing: Suppliers that warehouse bags across the country or even globally are more likely to maintain a stockpile of inventory. When searching for a supplier, focus on those with warehouses, even if those warehouses are not located physically within your geographic region.
Consider alternatives: While it may be difficult to deviate from bulk bag products that have proven themselves in your operations, it may be necessary to explore alternative options during this trying time. Our experts are happy to help you conduct a review of your application and find alternative solutions to your product storage and transportation needs.
Switch to a custom solution: During the ongoing bulk bag shortage, it may be helpful to consider a custom solution. Often, distributors are willing to stock custom bags for specific customers. Using a stock bag can help to reduce lead times as the public demand for that specific product doesn't factor into production and shipping times, and most distributors maintain a dedicated custom warehousing solution to ensure available stock of custom orders.
If you need assistance sourcing during this trying time, National Bulk Bag is here to help. Contact us to speak to one of our experts about your options for sourcing the products you need to keep your operations up and running at peak efficiency.
---
Thanks for reading, check out our New Buyer's Guide!
It's our mission to make your bag buying experience easy, informative, and enjoyable. We also want to share our knowledge with you, so you can make the best purchasing decision for the company you represent. Our Buyer's Guide to Purchasing Bulk Bags is a great starting point for any decision. It contains critical information ranging from types of bags to important safety information about handling and transportation.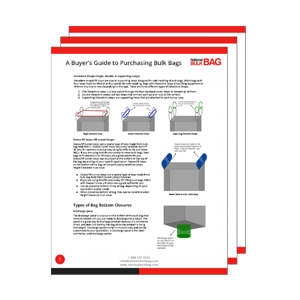 Download the guide by clicking below. By downloading, you'll learn all about:
Types of bags

Coated vs. uncoated

Liners

Bags with baffles

Types of lift loops

5:1 & 6:1 safety

guidelines

Much more!
Click the button below to download our comprehensive buyer's guide.