Updated: 7-5-2022
If you've recently been to the store to buy fresh produce, then you've probably encountered quite a bit of branded packaging. However, you also probably came across some generic packaging materials and didn't even know it. Generic branding is flexible and allows use across many different farms and production facilities without the consumer knowing anything about it. It also has several other advantages over branded products. But what are some of those advantages? Let's explore.
Industrial Bags vs Consumer Bags
When referring to agricultural bags, the industry often separates the bag types into two broader categories: industrial bags and consumer bags.
Industrial Bags
Think of bulk transportation when you think of industrial bags. They are often used to transport materials from facility to facility (or farm to processing). Generally speaking, they are larger bags and often filled with smaller consumer bags that already contain the product.
Consumer Bags
Consumer bags are types of bags that are ready for retail store shelves. They are usually smaller, more likely to carry retail branding and/or print and come in a wide range of colors and sizes. They are often filled with food products and then placed into larger industrial bags like baler bags.
Branded vs Generic
The key difference between branded and generic bags is exactly how it sounds – branded bags contain custom logos, prints, namesakes, etc. Generic bags either have no branding at all or use generic brands like "Valley Potatoes" or "Fresh Harvest." They are usually stocked in greater quantities at distributors because they can be used by virtually any brand when needed.
The Advantages of Generic Stock Bags
Although it may not always be an option to use a generic bag, they offer several advantages over their branded counterparts.
The first advantage is reduced costs. Because they are manufactured in bulk and don't need any custom printing that drives up per bag costs, generic stock bags are cheaper than branded bags. This also makes them great for industrial applications where no consumer interaction will be required and branding is less important.
Because they have no branding, they can be used interchangeably among brands and repurposed for other uses if an order falls through. This flexibility is a big advantage over branded bags.
Generic bags are usually stocked in larger quantities than custom bags because they aren't made for a specific customer This means there is an increased probability of your distributor having stock when you're in a pinch and need them quickly.
Talk to Your Distributor
Although generic bags can be more cost-effective in certain situations, sometimes a custom-branded bag is a better fit for your application. It's important to talk to your distributor about both a short-term and long-term solution to your agricultural bag application. A generic bag can often be a great quick fix while processing a custom bag order.
Lead times are a particular issue in the year 2021, and a generic in-stock bag may be the best short-term option for your immediate needs. We know avoiding costly shutdowns due to low bag stock is not an option for your facility. Talk to your distributor today about the generic options available should the need arise.
---
Thanks for reading, check out our New Buyer's Guide!
It's our mission to make your bag buying experience easy, informative, and enjoyable. We also want to share our knowledge with you, so you can make the best purchasing decision for the company you represent. Our Buyer's Guide to Purchasing Bulk Bags is a great starting point for any decision. It contains critical information ranging from types of bags to important safety information about handling and transportation.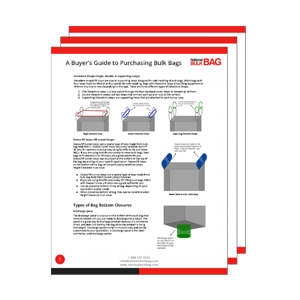 Download the guide by clicking below. By downloading, you'll learn all about:
Types of bags

Coated vs. uncoated

Liners

Bags with baffles

Types of lift loops

5:1 & 6:1 safety

guidelines

Much more!
Click the button below to download our comprehensive buyer's guide.