The practice of "just-in-time" logistics has been around for well over 60 years. However, recent events, including the pandemic and severe weather across the globe, have led many supply chain leaders to reexamine their view on just-in-time practices. For many industries, including the plastics industry, just-in-time logistics are likely coming to an end.
What is just-in-time logistics? How will the end of the practice impact the FIBC industry? Let's explore.
Just-In-Time Logistics - The Basics
Just-in-time logistics was conceived in the 1950s by the CEO of Toyota in an effort to innovate the supply chain. The CEO viewed the standard practice of stocking large inventories of spare parts and materials as wasteful and overly expensive. He saw an opportunity to reduce operating costs by limiting on-hand inventory of spare parts and materials.
Drawing inspiration from the supermarket industry – where freshness plays a critical role in the supply chain – he devised a method of producing and stocking required materials only as they became immediately needed. For example, if a current order required the production of 45 vehicles, the factory would only stock the parts needed to make that exact number of cars.
This method cut down on the space and manpower needed to maintain huge inventories of parts.
The Downfall of Just-In-Time
For just-in-time logistics to work, the practice requires upstream suppliers to be 100 percent in-sync with the needs of the manufacturer. Any delays in material delivery will lead to a significant loss of production efficiency. In most cases, it is possible to plan for a minor delay, which can limit the impact on the operation as a whole.
However, COVID-19 and recent weather events have shined a light on the major weakness of just-in-time logistics. As suppliers encountered issues meeting demands, ripples were felt throughout the supply chain. Suddenly, large stockpiles of parts and materials were sorely missed.
Overcoming the challenges of just-in-time logistics proved to be far too difficult for many manufacturers within the plastics industry and elsewhere – which led many supply chain leaders to rethink the practice.
How Will This Change Impact the FIBC Industry?
The shift away from just-in-time logistics should benefit the FIBC industry. It will take some time for materials suppliers to build up stock levels, but once they do, we are likely to see some stabilization in the global supply chain. With increased stock, FIBC manufacturers should have better access to materials, which should help to cut down on lead times.
Stocking required materials will help suppliers and manufacturers navigate unforeseen issues, like the pandemic, in the future. Certainly, this change in philosophy in combination other supply chain enhancements like data and technology integrations, will help strengthen the supply chain for the long term.
Relief May Be In Sight, But it Isn't Here Just Yet
While the shift away from just-in-time will help eliminate many supply chain issues, it will take some time before we see the benefits. Manufacturers should continue to expect longer lead times and plan for long-term FIBC needs.
We can help you develop a plan to ensure the required supply of FIBCs or to explore alternative products if the delays become an issue. Contact us to talk to an expert about your current and future FIBC needs.
---
Thanks for reading!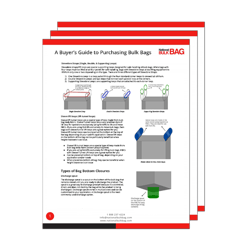 Thanks for reading our blog post "Common Filling Equipment for FIBC Bulk Bags"!
It's our mission to make your buying experience easy, informative, and enjoyable. We also want to share our knowledge with you so you can make the best purchasing decision for the company you represent. Our Buyer's Guide to Purchasing Bulk Bags includes critical information ranging from types of bags to important safety information about handling and transportation.
Click the button below to download our comprehensive buyer's guide.