As supply chain issues continue to impact the world, many industries are feeling the crunch. As part of our commitment to keeping up on the latest industry news, we're continually examining the FIBC market and lead times, and sharing our findings with you. By doing so, we hope to keep you informed and to help you minimize the impact supply chain issues have on your business.
Market and Supply Chain Update Since COVID-19
It's no secret that the COVID-19 pandemic has wreaked havoc on the global supply chain and the availability of commercial goods. In the 20 plus months since the start of the pandemic, lead times for critical products and supplies have skyrocketed. Prior to the pandemic, the typical lead time for FIBC bulk bag orders sourced from overseas was around 30-60 days. Custom bag orders typically ran about 90 days lead time.
Since the pandemic, however, those lead times have essentially doubled. Today, those same orders take 90-120 days or more to fulfill. The reasons behind these lengthy lead times are clear:
COVID-19 lockdowns in the United States initially reduced demand for many products, but as restrictions were lifted, the demand for those products exploded exponentially
COVID-19 shut down many overseas factories and manufacturing operations that produce FIBCs, which led to significant issues as production was severely diminished
Ice storms in the southern U.S. shut down resin manufacturing facilities, which caused a shortage of the materials needed to construct FIBC bulk bags
Raw materials demand skyrocketed in late 2020, which further squeezed the supply of raw materials needed to construct FIBC bulk bags
As you can see, we've experienced the proverbial perfect storm of events to cause these supply chain issues. Each problem stacked on top of the others to create a complicated weave of issues that continue to compound the problem.
Market and Supply Chain Predictions
While we would love to tell you that these supply chain issues are short term problems, and that the end is in sight, that simply doesn't seem to be the case. In fact, these supply chain issues are likely only going to get worse before they get better.
The U.S. faces another issue that is likely to impact lead times and the costs of FIBCs – the surging demand across the economy as we continue to emerge from the pandemic.
Additional challenges stem from a rash of shipping issues as the port of Los Angeles faces a months-long delay in unloading shipping containers, with a record number of ships just waiting to be unloaded. The port of LA is crucial for overseas FIBCs as most suppliers are located in Asia, and the vast majority of trade from Asia to the U.S. travels through this port.
These issues have lengthened already record-long lead times, and driven FIBC bulk bag prices even higher as inflationary pressure from supply chain constraints hits all products. If these issues continue, lead times for FIBC bulk bag orders may extend up to – and even over – 6 months.
Planning Ahead is Critical to Your Business
Now more than ever before, careful supply chain planning is critical to the success of your business. With careful planning and forecasting of your future FIBC bulk bag needs, you can reduce the strain these supply chain issues have on your business. This is especially true for agricultural businesses looking ahead to the 2022 harvest season. The fact of the matter is, the sooner you place your FIBC bulk bag order, the better you'll be able to weather the lengthy lead times and shipping delays.
National Bulk Bag is here to help you limit the stress caused by these record lead times for FIBC bulk bags. Contact us to speak to an expert who can help you develop a plan to make sure you have the FIBCs needed to support your operations.
---
Thanks for reading!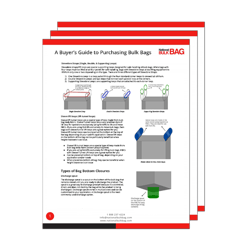 Thanks for reading our blog post "Common Filling Equipment for FIBC Bulk Bags"!
It's our mission to make your buying experience easy, informative, and enjoyable. We also want to share our knowledge with you so you can make the best purchasing decision for the company you represent. Our Buyer's Guide to Purchasing Bulk Bags includes critical information ranging from types of bags to important safety information about handling and transportation.
Click the button below to download our comprehensive buyer's guide.