Spout bottom FIBCs are ideal for a wide range of applications due to their flexibility and easily controlled discharge of materials. However, due to their design, spout bottom bags can be prone to clogging.
This clogging, commonly referred to as bridging, occurs as material sticks to itself during discharge and builds up around the bag's spout. Bridging is especially common in applications involving materials with high moisture content, such as fresh organic products and agricultural goods. To learn more about bridging, read our recent article "What is FIBC Bridging? How Can You Minimize It?" by clicking here.
Bridging can significantly impact the efficiency of your operations by delaying the discharge of materials. Bridging can also present safety hazards to workers, making it important to understand the best ways to unclog a bag. Let's explore the safest ways to do so.
Tips for Unclogging a Filled FIBC
If you are attempting to unclog a spout bottom bulk bag, DO NOT stand beneath the bag. Doing so can be very dangerous and result in significant injury.
Fortunately, there are many possible methods for unclogging a spout bottom bag without endangering workers, including:
Using a broom handle or other type of extension pole to push the spout bottom and attempt to free the materials, staying as far away from the bag as possible when doing so.
Massaging the area around the spout with your hands or an extension pole to attempt to loosen the materials. Pay close attention to the discharge spout and avoid getting underneath the bag.
Pushing the material through the spout with a broom handle or extension pole while standing above the bag. When attempting this method, be sure to maintain stable footing and keep other workers away from the bottom of the bag.
Cutting the bag around the bottom of the spout. This method should be used only as a last resort, as it renders the bag unable to be reused. When attempting this approach, be careful with the blade, and cut as minimally as possible to avoid uncontrolled discharge of the material. If possible, leverage a blade that can used at a distance to minimize risk to the worker.
Whatever method you choose to attempt to clear a clogged discharged spout, National Bulk Bag encourages you to consider all hazards and implement all available safety protocols.
Prevention is the Safest Approach
While it may not be possible to completely prevent bridging, especially when handling materials with high moisture content, there are steps you can take to limit the possibility of a clogged spout.
To prevent bridging, consider:
Using an oversized spout bottom bag: A recent innovation to the market, oversized spout bottom FIBCs feature a 28-inch diameter spout. This larger spout's faster discharge rate and larger opening prevent material from bridging, resulting in increased reliability and safety for users. To learn more, click here to read our recent blog post "What is an Oversized Spout Bottom FIBC?"
Using a vented FIBC: When possible, use a bulk bag with vents to dry out the product before discharge. This helps to prevent moisture-filled material from sticking and building up around the discharge spout.
---
Thanks for reading!
It's our mission to make your bag buying experience easy, informative, and enjoyable. We also want to share our knowledge with you, so you can make the best purchasing decision for the company you represent. Our Buyer's Guide to Purchasing Bulk Bags includes critical information ranging from types of bags to important safety information about handling and transportation.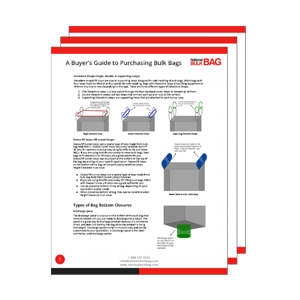 Download the guide by clicking below. By downloading, you'll learn all about:
Types of bags

Coated vs. uncoated

Liners

Bags with baffles

Types of lift loops

5:1 & 6:1 safety

guidelines

Much more!
Click the button below to download our comprehensive buyer's guide.